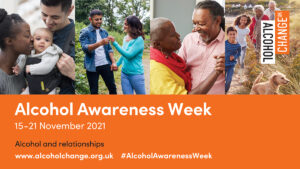 IN SUPPORT of this year's Alcohol Awareness Week, East Sussex County Council and its Recovery Partners are highlighting the impact alcohol can have on relationships and health and wellbeing.
To mark the start of this year's campaign, which runs from November 15 to 21, the council and its partners will be joining over 4,000 community groups across the UK to increase the understanding of the ways in which alcohol can affect us and our relationships with those around us.
A variety of events, where people can talk to qualified, friendly advisors without feeling judged, are being hosted by the council's Recovery Partners across East Sussex during the awareness week:
15 November – 10am-2pm at East Sussex Veterans Hub and East Sussex Recovery Alliance – Harold Pl, Hastings TN34 1JA
16 November – 10am-12pm at East Sussex Recovery Alliance – North St, Eastbourne BN21 3HG
17 November – 10am-2pm at Hillcrest Centre, Bay Vue Rd, Newhaven – Hosted by Change Grow Live (CGL Star)
18 November – 10am-2pm at Uckfield Civic Centre, Uckfield TN22 1AE – Hosting by Change Grow Live (CGL Star)
19 November – 10am-2pm at Tilling Green Community Centre, Rye TN31 7BE – Hosted by Change Grow Live (CGL Star)
Darrell Gale, Director of Public Health at East Sussex County Council, said: "Alcohol can have a damaging impact on our relationships and with more people drinking more often during the pandemic, for many different reasons, this can become even more difficult.
"By talking about alcohol and the impact it can have we can help each other to better understand how it might be affecting us and those around us.
"In East Sussex there are a range of services where you can access qualified support from friendly, non-judgemental advisors. If you're finding it difficult to talk about it why not speak to a local advisor and start improving your relationship with alcohol today."
Many of us drink alcohol for a variety of ever-changing reasons, including to relax, to socialise, to de-stress, to have fun, to relieve boredom, to deal with feelings of loneliness, and to try and cope with or avoid problems. However, drinking too much and too often can cause or exacerbate all sorts of problems with our physical and mental health, including damaging relationships with our loved ones.
For some, alcohol can become a central aspect of our relationships with friends, family or partners. When this happens, it can actually stop us taking action to improve our drinking habits, even when those habits aren't working for us.
Alcohol can also negatively affect our relationships. It can heighten family tensions, get in the way of clear communication, and mean we are less present for each other, including our children. And if a loved one is drinking heavily, it can cause huge worry. There is also a risk someone's drinking can cause conflict, with alcohol being a factor in many cases of child neglect and domestic abuse.
Alcohol is strongly associated with mental health problems like anxiety and depression, which may have worsened over the pandemic. As we return to a more normal life, there will be new pressures – pressures to drink, sober shaming (being made to feel not drinking is wrong), and the pressures we put on ourselves to get back to 'normal' socialising.
Led by Alcohol Change UK, Alcohol Awareness Week aims to get people thinking and talking about alcohol, to motivate change at every level – individual, community and national.
For more information on the events being held and to find out how you can get involved, follow East Sussex County Council on Facebook and Twitter – @EastSussexCC.