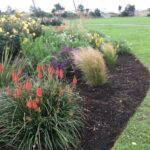 A SCHEME that helps those at risk of homelessness find work and training opportunities is being rolled out following a successful pilot.
Plumpton College recently welcomed a group from the Rough Sleepers Initiative for an eight-week training programme in local parks which included a mixture of activities to support wellbeing, a City and Guilds Level 1 qualification in Horticulture Studies, and work experience alongside land management company Idverde.
The project was managed by East Sussex County Council's ESTAR (Employability for Supported and Temporary and Refuges) initiative.
With positive results from the pilot and with the help of partner organisations such as Live, Work, Thrive and the YMCA, a further 50 people who can benefit from scheme will be invited to take part at three new locations over the next six months, funded by the Covid Outbreak Management Fund
Ana Esteves, Mental Health Support Worker and Activities Coordinator with the Rough Sleepers Initiative, said "The success of this programme has proven the benefits of working outside and connecting with nature, with all clients reporting an improvement in terms of anxiety, depression and overall general wellbeing.
"This has been an incredible opportunity to build our clients' confidence and give them a sense of purpose and hope for the future. The skills they have learned go beyond horticulture and will have countless benefits on their individual prospects."
Some of the clients taking part said they had previously slept rough in the parks that they were now helping to improve and felt like they were giving something back.
One of those who took part has been offered work with Idverde, another has gone on to further training, while others are considering making a career in horticulture.
Cllr Carl Maynard, East Sussex County Council's lead member for adult social care and health, said: "This training offers a great opportunity for residents in supported and temporary accommodation to develop the skills and confidence they need to take the next step in employment or training, and to move towards independent living.
"Since the 'Everybody In' initiative of 2020, the majority of homeless people are now housed in emergency accommodation with their local authority and this project gives them the chance to turn their lives around."
Cllr Rupert Simmons, the county council's lead member for the economy, added: "It's so important that everyone in East Sussex, regardless of their background or circumstances, can access training and support to get back into work.
"Providing industry-specific training and experience not only benefits those taking part in the project to find work, but also employers looking for workers with the necessary skills."
A second group of clients will soon graduate from the scheme and it is hoped that some will move on to take part in ESTAR's Moving On Up Employment and Apprenticeship Scheme, which aims to help those in supported and temporary accommodation, or at risk of homelessness, access apprenticeship placements and vocational training.
Employers and apprenticeship training providers can find out more about the Moving On Up Employment and Apprenticeship Scheme by visiting www.careerseastsussex.co.uk/advice/employers/employer-schemes/moving-on-up-apprenticeships/ or by emailing movingonup@sctp.org.uk
Support workers and housing officers can refer residents to Moving On Up by emailing movingonup@sussexcommunity.org.uk