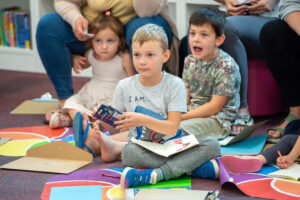 AN EXCITING programme of events will be running in libraries across the county over the coming months.
Free events include computer coding workshops, music and theatre performances and interactive family learning sessions.
To mark Women's History Month this month, which aims to inspire and empower women by celebrating women's lives and achievements, coding taster sessions for girls will take place at Hastings and Eastbourne libraries.
Girls Do Code workshops offer an opportunity for girls aged between 8 and 18 to try coding and improve their computer skills. It is hoped these events will support the work taking place in East Sussex schools to engage more girls in STEM (Science, Technology, Engineering and Maths).
In addition, Coding for Parents and Carers sessions will also be taking place where attendees can find out more about coding and what their children learn at school. It is hoped that further coding sessions for parents and carers will be run over the coming months.
The sessions, which are being run in collaboration with local tech charity TechResort, will take place at the following times:
Hastings Library
Saturday, March 5, 10.30am – 12noon: Coding for Parents and Carers
Saturday, March 5, 1pm – 2pm: Girls Do Code
Eastbourne Library
Saturday, March 12, 10.30am – 12noon: Coding for Parents and Carers
Saturday, March 12, 1pm – 2pm: Girls Do Code
As part of British Science Week, Science Saturday will be running at Hastings Library on March 19 between 2.30pm and 4pm. Budding scientists are invited to join a demonstration of the library's loanable micro:bits as well as create an upcycled terrarium to take home.
Seaford Library will be hosting the London Mozart Players on Saturday, May 7 for performances of Roald Dahl's riotous re-telling of the iconic children's fable The Three Little Pigs. Music, art and hilarious storytelling will combine in a concert that's perfect for the whole family with performances at 1pm and 3pm.
The London Mozart Players will also be performing at Newhaven Library to invited local schools later in May, and at Peacehaven and Uckfield Libraries during the Easter school holidays as part of the council's Holiday Food and Fun programme for children who receive benefits-related free school meals.
Two Family Learning events will be taking place on Tuesday, May 31. Family Learning sessions offer a positive and fun shared learning experience where families can learn together, and parents and carers can develop skills and knowledge to support their children's learning.
Crowborough Library will be holding a Family Learning Story Sack session at 10am where parents and children can make their own characters to help tell the story of the Little Red Hen, while a Family Learning Fun With Maths session will take place at Seaford Library at 1.45pm. Both workshops are suitable for children aged 3 to 7 years.
In addition, Rhymetime and Storytime sessions for children under 5 are held weekly at a number of East Sussex libraries including Bexhill, Heathfield, Wadhurst and Uckfield.
Cllr Claire Dowling, lead member for transport and environment at East Sussex County Council, said: "I am delighted that our full programme of fun, educational events is returning to our libraries after the challenges of the last two years.
"There is a fantastic selection of activities taking place over the coming months and I would encourage residents to see what is happening in their local library."
All library events are free but booking may be required. For more information and to book, please visit www.eastsussex.gov.uk/libraryevents