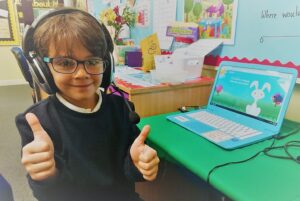 A NEW REMOTE reading programme has been launched to support struggling young readers across the county.
East Sussex County Council is supporting the roll-out of an innovative reading scheme to help improve the reading skills of pupils in three primary schools in Hastings, Eastbourne and Newhaven.
Sixty 5- to 7-year-olds at Ore Village, Oakwood and Harbour primary schools are now receiving weekly online reading sessions as part of the UK-wide TutorMate programme, which is run by the charity Innovations for Learning UK.
Children from each school have been matched with volunteers from the council and local companies. Using the web-based TutorMate platform and a voice connection, the volunteers link with their 'reading buddy' for 30 minutes each week, during the school day. Together they read stories and play games that build fluency, comprehension and phonics skills.
Councillor Bob Standley, lead member for education and inclusion, special educational needs and disability, said: "We are proud to be the first council to support this new initiative, aimed at helping children in East Sussex who might need additional support to improve their reading skills.
"The programme will help our young readers grow in confidence so they enjoy a lifelong love of reading."
In 2019 (the last year for which data is available due to statutory assessments being suspended in 2020 and 2021), 58 per cent of disadvantaged pupils in East Sussex achieved the expected standard in reading as opposed to 77 per cent of non-disadvantaged pupils. This gap is expected to widen this year due to the disproportional impact the pandemic has had on learning for disadvantaged pupils.
Tara Yates, a teacher at Ore Village Primary School in Hastings, can already see the benefit of the programme for her pupils, and said: "The children really enjoy their TutorMate sessions and seem to get on well with their tutors. I think the sessions are useful and give those children who don't read at home a bit of extra practice".
Local companies supporting the programme include Jacobs, The Body Shop, Wates Group and MetLife.
Cllr Standley added: "Bringing in local and national employers as the reading buddies for these children is a unique and potentially rewarding approach for all.  By supporting this initiative organisations can help to improve the educational achievement and employability of local children, whilst improving the wellbeing and engagement of their own employees."
Carol Hook, Executive Assistant at The Body Shop International, one of the company's team of volunteers reading with local children, said: "The Body Shop is delighted to be supporting this important project close to our global HQ.
"The Body Shop encourages its staff to play an active role in volunteering to make a positive difference and this programme provides colleagues with a wonderful opportunity to do just that.
"It's incredibly rewarding to see a child growing in confidence and improving their reading skills from week to week, nurturing a love of language that will stay with them forever.  The sessions are great fun and can easily fit into the weekly work schedule.  You quickly realise just how important that half hour is to your little reading 'buddy'."
Funding for the programme is being provided by East Sussex County Council as well as the companies involved and the Anjoli Stewart Trust.
More information on Innovations for Learning and the Tutormate programme is available at  https://www.innovationsforlearning.org/uk/corporate-volunteering or via the TutorMate video at http://tiny.cc/tutormateuk_corp.
Companies who are interested in finding out more about volunteering or providing funding should contact sarah.taylor@innovationsforlearning.org.