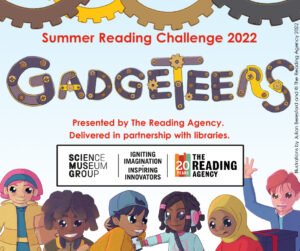 YOUNG readers in East Sussex are being encouraged to discover the science and innovation in the world around them as they take on the Summer Reading Challenge.
East Sussex libraries are calling on children aged four to 12 to read six books over the summer months as part of The Reading Agency's Gadgeteers Summer Reading Challenge 2022.
This year the Science Museum Group are bringing a science themed challenge to libraries across the county that will inspire youngsters to use their imagination and creativity and show that reading and science are for everyone.
Children are invited to join six fictional Gadgeteers who use their curiosity and wonder to understand the science behind a whole range of interests.
The Gadgeteers characters have been brought to life with illustrations by children's writer and illustrator Julian Beresford.
For each library book read, youngsters will receive a sticker and other prizes. After reading six books they will earn a certificate and a medal.
Children can read any library book of their choice including fiction, non-fiction, picture books or books they share with parents and carers. eBooks, eAudiobooks and books on CD also count towards the challenge.
Cllr Claire Dowling, lead member for transport and the environment, said: "Each year the Summer Reading Challenge captures the imagination of children across the county, encouraging them to visit their local library and keep reading during their summer break.
"This year the Gadgeteers will help children discover the joy of reading as well as showing them how science is all around us – whether baking cakes, making music or using the latest technology.
"Last year over 5,000 East Sussex children took park in the Challenge – I hope even more children across the county will sign up this year and help us beat that total."
Children are encouraged to explore the Gadgeteers Book Collection, which contains fun science and innovation themed recommendations for all ages.
Titles include Bears Make the Best Science Buddies, the fourth picture book in Carmen Oliver's series which brings the excitement of science to life, James Carter's Once Upon an Atom: Questions of Science, a rhyming book that bubbles and bursts with all things scientific, and How to Win a Nobel Prize, a time-travelling adventure with interactive experiments for budding young scientists by Nobel Prize winning Prof Barry Marshall.
To inspire young readers, free science themed workshops and events will also be taking place at East Sussex libraries this summer.
Families are invited on an interactive story hunt with storyteller John Kirk as he explores the brilliantly bizarre and bogus tale of an extraordinary 18th century chess playing robot in We're Going on a Story Hunt for the Automaton Turk!.
Children will be able to create their own clay figures and produce a series of short animations at stop-motion clay animation workshops, while at 3D Design and Print sessions they will learn to build a badge in TinkerCad and print their very own designs.
In addition, digital skills company TechResort will be running virtual reality sessions and PyBadge coding workshops.
The Summer Reading Challenge starts next month and runs from July 9 to September 10 in all East Sussex libraries. For more information on the challenge, to sign up and book events visit www.eastsussex.gov.uk/src.