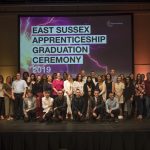 THE COMMITMENT and hard work of apprentices will be celebrated at an East Sussex graduation ceremony this month.
The event on Wednesday, October 19, will mark the importance of apprenticeships to the local economy and celebrate the contributions of apprentices, local businesses and educators.
Those who have completed an apprenticeship in East Sussex between September 1, 2019 and October 1 2022 are welcome to attend the event, the first since 2019 due to the Covid pandemic.
The event is organised by Sussex Council of Training Providers with support from co-headline sponsors East Sussex County Council and East Sussex College Group, and sponsors NCFE,the South East Apprenticeship Ambassador Network and OHM Energy.
Councillor Simmons, lead member for economy, and Councillor Standley lead member for education and inclusion will be joining local sector leaders to congratulate apprentices on their achievements and present certificates and special awards.
Cllr Simmons said: "I am really looking forward to offering my congratulations to the apprentices who have worked extremely hard as they have embarked on careers including in adult social care, engineering, administration and hospitality.
"Not only will we be celebrating the achievements of apprentices, we'll also be highlighting the key role that local businesses and education partners play in the successful apprenticeship programme in East Sussex."
Cllr Standley added: "Apprenticeships offer a wonderful opportunity for people to take the first step onto the career ladder or change career paths, earn money while training and gain qualifications from entry level to the equivalent of a master's degree."
The event will be held at The Welcome Building in Carlisle Road, Eastbourne between 6.30pm and 8pm, and those who have completed an apprenticeship in East Sussex between September 1, 2019 and October 1, 2022 can register to attend by Friday, October 7 by visiting www.eventbrite.co.uk/e/east-sussex-apprenticeship-graduation-ceremony-2022-registration-388194709827  Friends and family are also welcome to attend. Tickets are free of charge.
During the event, four special awards will be presented to celebrate the outstanding achievements of all those involved in the apprenticeship journey. Based on nominations received from employers, colleagues, apprenticeship assessors and family members, the following awards will be given;
Overall Contribution to the Business Award celebrating the outstanding contribution an East Sussex apprentice has made to their employer during their apprenticeship
Amazing Colleague/Apprenticeship Employer Award celebrating the contribution of employees who have either championed apprenticeships within their organisation or have offered exemplary support
Best Progression Award recognising the exceptional determination and efforts of an apprentice in the achievement of their apprenticeship through challenging times
Tutor/Trainer of the Year celebrating the contribution of a tutor or trainer who has gone above and beyond the call of duty to support an apprentice(s) during their apprenticeship
Vanessa Potter from The Sussex Council of Training Providers, said: "The impact of apprenticeships and traineeships to businesses and individuals across East Sussex is vast, and we're delighted to invite all those involved in the journey, to celebrate the collective achievements of the county's apprentices, employers and training providers, at this exciting event."
Anyone interested in becoming an apprentice can find out more by calling 0800 0150 400 or visiting www.apprenticeships.gov.uk
Anyone aged 16-18 who needs help getting into further education, training, apprenticeships or employment can contact the Youth Employability Service (YES) for 1-1 support on 01323 368390 or 01424 311890, email yeseastsussex@cxk.org message them at facebook.com/yeseastsussex
Businesses looking for more information about apprenticeships and can visit www.sctp.org.uk/transform-programme/ to access the free and impartial Transform skills support service.
The Transform project, which aims to help SMEs in East Sussex access apprenticeship advice and funding, is part-funded by the European Social Fund and led by East Sussex County Council. It is delivered by the Sussex Council of Training Providers (SCTP).
Ends.