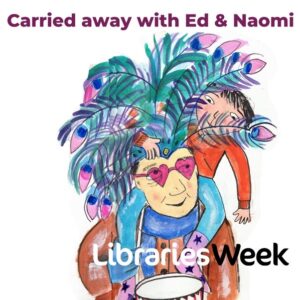 A SERIES of events will be running in libraries across the county over the coming weeks to celebrate Libraries Week.
Libraries Week, which runs from October 3 to 9, is an annual celebration of the best that libraries have to offer, and this year aims to showcase how libraries are inspiring learning for all and helping individuals to unlock and fulfil their potential at every stage of life.
Free events for adults and children will be taking place in East Sussex libraries in late September and throughout October to encourage people to never stop learning.
Events include writing for wellbeing workshops, author led storytelling sessions, creative writing courses, and poetry.
A journaling for wellbeing workshop will be held at Eastbourne library on Tuesday, October 4 at 11am, followed later in the week by a writing for wellbeing session at Bexhill library (Thursday, October 6 at 9.30am).
On Saturday, October 15 professional storyteller and author Wendy Shearer will be reading from her latest book, Caribbean Folktales: Stories from the islands and the Windrush Generation, during storytelling sessions at Eastbourne, Seaford, Newhaven and Peacehaven libraries.
Suitable for adults and children, Wendy's sessions will reflect on how those migrating felt at leaving their home, country and friends, including their aspirations for their new home-to-be, England the 'Mother Country'.
An evening poetry workshop with poet and motivational speaker Dr Marcia Morgan will be held at Lewes library on Thursday, October 20.
Dr Morgan uses poetry to bridge the gap between theory, practice, and experience, to make plain the theories of intersectionality and organisational psychodynamics in prison work.
The current creative writing course with local writer Alex Willis and staff from Hailsham library will be continuing at Hellingly Community Hub.
The course is aimed at those who would like to start writing but are not quite sure where to begin. Sessions are held on the last Monday of every month from 11am to 12noon.
In celebration of Libraries Week, free author led events for children will be taking place during the half term holiday at the end of October.
Children's author and performer Ed Boxall will be accompanied by master-musician Naomi Burrell for an exciting new performance based on Ed's book, Carried Away with the Carnival, at Eastbourne and Hailsham libraries on Monday, October 24.
Uckfield and Crowborough libraries will be hosting storyteller John Kirk for slightly spooky story hunts for little monsters and their families on Tuesday, October 25.  Get ready for an entertainment experience like no other as storytelling and scavenger hunting collide in 30 minutes of Halloween themed interactive fun for children aged 3 plus.
Regular library activities such as Ryhmetime, Homework and Activity Clubs, and Family Learning events will also continue to take place in libraries across the county throughout October.
Cllr Claire Dowling, lead member for transport and environment at East Sussex County Council, said "I hope our ongoing programme of activities will encourage people to visit their local library and find out more about the ways their library empowers life-long learning.
"I encourage residents to visit the East Sussex libraries website to find out what's happening over the next few weeks.
"Everyone is welcome and while you don't have to be a library member to attend an event, remember it is free to join your local library and enjoy everything libraries have to offer."
For more information on the events being held to celebrate Libraries Week 2022, and to book a place, visit www.eastsussex.gov.uk/librariesweek.
Details about the East Sussex library service and the activities on offer are available at eastsussex.spydus.co.uk.