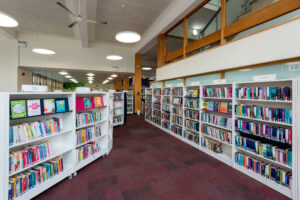 A BOOK amnesty is being held in libraries across the county to recover missing library books.
Almost 5,000 books a year are not returned to East Sussex libraries, and residents are being asked to check their bookshelves, behind the sofa and under the bed to see if they have any overdue titles.
During the seven-week amnesty, which runs from Monday, February 13 to Friday, March 31, fines will be waived by the library service for any books returned.
Classic novels such as Moby-Dick, or The Whale, by Herman Melville and Wuthering Heights by Emily Bronte along with War Horse by Michael Morpurgo are amongst the well-known fiction titles that have been out on loan the longest.
The residents of East Sussex seem to like being kept on the edge of their seats, with the most overdue adult fiction author being bestselling thriller and suspense writer James Patterson.
Non-fiction books are also missing and a copy of Bill Oddie's Introduction to Birdwatching is the most overdue adult non-fiction title.
Among the books for younger readers that have not been returned are those by fairy story author Daisy Meadows, and books by renowned children's authors Julia Donaldson and Roald Dahl.
Popular titles such as The Hungry Caterpillar, Harry Potter and the Chamber of Secrets, Charlie and the Chocolate Factory and The Gruffalo are some of the overdue children's books.
Over 70 copies of Roald Dahl's children's books are currently missing from East Sussex libraries.
Cllr Claire Dowling, lead member for transport and environment at East Sussex County Council, said: "Our libraries contain many thousands of books which are available for library members to borrow for free.
"Unfortunately, every year many titles fail to make it back to us and if books aren't returned other people miss out.
"During the amnesty, I urge residents who think they may have an overdue book to look around their homes to see if they can help us recover some of the missing items and allow more people to enjoy them."
Books can be returned to any East Sussex library during opening hours. Alternatively, most libraries have drop boxes for out of hours returns.
Some people may not have finished with the books they have out on loan, and in those cases the library service is asking members to renew them as soon as possible.
Cllr Dowling continued: "If you are not quite ready to part with your favourite items yet, you can help us by renewing them online with your membership number and PIN."
For details on the location of your local library please visit www.eastsussex.gov.uk/libraries/local/locations.
More information about how to renew a library book is available under the 'Renew your books' section at www.eastsussex.gov.uk/libraries.