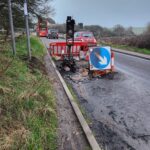 A SPATE of vandalism is jeopardising the future of temporary traffic lights at Exceat Bridge.
The lights were put in place in March 2021 to ease congestion on the key coastal route between Seaford and Eastbourne while East Sussex County Council works on a permanent solution.
In recent weeks, batteries have been stolen from the equipment and the lights have been damaged with air-gun pellets.
And on Monday, February 20, one of the lights was set alight, the other was thrown into a hedge and the signs were thrown into the Cuckmere River.
Karl Taylor, assistant director of highways operations, said: "These lights have had a positive impact on the bottleneck at Exceat while we work on plans for a replacement, two-lane bridge.
"But, with the equipment consistently coming under attack, we may be forced to remove the lights altogether or use taxpayers' money to employ security guards to protect them."
The vandalism has been reported and anyone with information is encouraged to contact Sussex Police.