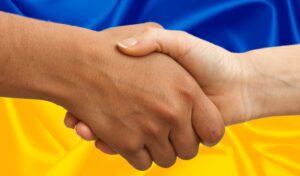 THE UKRAINIAN flag will be raised at County Hall in Lewes on Friday, February 24 in solidarity with the people of Ukraine as the county marks the anniversary of the Russian invasion.
At 11am the council will join the national one-minute silence to commemorate one year since the start of the war.
Cllr Keith Glazier, leader of East Sussex County Council said: "It is with great sadness that we raise the Ukrainian flag at County Hall to commemorate one year since Russian forces invaded Ukraine.
"Hundreds of East Sussex residents have opened their homes to those fleeing the war since the Homes for Ukraine scheme began in March last year and I thank them for their kindness and generosity.
"I would also like to thank the local volunteer groups, charities and faith organisations who have worked so hard to help those fleeing the conflict settle in East Sussex.
"Our support of, and commitment to, the people of Ukraine will continue for as long as necessary."
East Sussex residents have shown their continuing and steadfast support for Ukrainians during the last 12 months.
Over 500 host families are currently offering shelter to those fleeing the conflict, with more than 1,400 Ukrainian guests now living in the county.  A further 300 guests are expected to arrive locally during the coming weeks.
Numerous local groups and organisations have provided activities and support to assist Ukrainian guests in getting to know their new communities.
As the war continues, more Ukrainians are having to leave their homeland and the council is seeking more host families.
Cllr Glazier continued: "We urgently need more host families and I would urge residents who wish to host, or would like to return to hosting, to contact us at ukraine@eastsussex.gov.uk."
Events will also be taking place in communities across the county to mark the first anniversary of the conflict.
On Friday a candle-lit vigil will be held by the Hastings and Rother Associations of Ukrainians in Great Britain in The Stade Square, Hastings from 4pm, while the Eastbourne community will join together at Eastbourne Town Hall at 6.30pm to show their support for Ukraine.
The community in Hailsham and Wealden District will be gathering at the memorial in Hailsham town centre from 6.30pm on Friday evening.
A special service of prayer, worship and thanksgiving will be held at Victoria Baptist Church in Eastbourne on Saturday, February 25 at 4pm.
Information on hosting Ukrainian guests, the support available to those arriving in East Sussex and other ways people can help is available on the council's website at https://www.eastsussex.gov.uk/community/supporting-refugees/ukraine