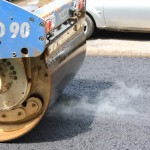 MOTORISTS driving through Burwash will experience a smoother ride after extensive resurfacing work is complete.
Road closures will be in place between 7am and 7pm on Shrub Lane between the A265 to Cottenden Road as work is carried out from Monday, March 6 to Monday, April 3, including weekends.
During this time the road will be reconstructed by recycling the material from the existing carriageway to strengthen the foundations of the road before a new road surface is laid.
The work will be carried out in three phases, starting from the A265 end and working towards the Cottenden Road junction.
When the work reaches the top end of phase three, which runs from Thursday, March 24 to Monday, April 3, the road will remain closed but two-way traffic lights will also be installed at the Cottenden Road junction to allow work to continue safely.
An East Sussex Highways spokesperson said: "The recycling of the surface not only improves the strength and durability of the road and is quicker than traditional resurfacing, but it is much more environmentally friendly and contributes to efforts to reduce our carbon footprint.
"We apologise for the inconvenience this work will cause, but we would ask motorists to bear with us as the end product will be a smoother drive."
During road closures, traffic will be diverted via the A265, Peartree Hill, Station Road and Cottenden Road.  Access to properties and pedestrian access will be maintained but there may be a delay.
Ends.