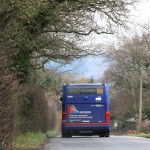 CHEAPER fares and more bus services including new on demand bus services are on the cards for East Sussex residents as plans are fine-tuned.
East Sussex County Council is pushing ahead with its Bus Service Improvement Plan (BSIP) after receiving £41.4 million from Government.
From April 1, bus users will benefit from further reductions to bus fares including the current £5 single operator East Sussex day ticket becoming a multi-operator ticket which can be used on all bus services in the county, alongside additional age related fare reductions.
In the coming months the county council will also be launching a new bookable on-demand transport service which will operate primarily in more rural areas. The service will be able to be booked via an app or by phone and more details will be announced soon.
Cllr Claire Dowling, lead member for transport and environment, said: "Our plan to offer the highest quality bus service possible to our residents has been given a fantastic boost thanks to the Government funding we have secured.
"Our officers are working hard to make the proposals set out in our BSIP a reality and create a service that gives comprehensive choice, reduces congestion and makes a positive contribution to improving air quality and decarbonisation.
"Reduced fares and the enhancements to the bus network will help to make travelling around the county more affordable and the on-demand services will make it easier for those in rural areas to access public transport."
Details of fare reductions coming into effect from April 1 can be found at www.eastsussex.gov.uk/roads-transport/public/bus-service-improvement-plan/new-lower-fares-on-east-sussex-bus-services and include;
A new £5 all day ticket which can be used on most bus operators across East Sussex
A reduction from £17.50 to £15 for the weekly Freedom Pass for under 19s
An extension of the current offers of:

A single fare for under 19s after 6pm on school days and anytime on non-school days
up to four under 19s being able to travel for free with one adult fare paying or concessionary pass passenger
The Government's £2 single fare is being extended to the end of June 2023.
East Sussex's BSIP includes other schemes and improvements to infrastructure which will be put in place across the East Sussex between now and March 2025.  These improvements include bus priority, improvements to bus stops and real time information provision.
Ends