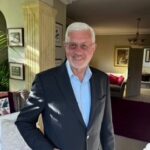 A BUSINESS-led partnership working to drive economic growth in East Sussex has welcomed a new chair to the board.
David Sheppard, who served as deputy chair for Team East Sussex (TES) for the past five years, has taken over the reins from Graham Peters.
In his role, David will oversee the development of the new East Sussex Economic Growth Strategy for the county and support the transition of Local Enterprise Partnership responsibilities to local institutions. Working with partners, he will help to ensure the TES partnership continues to support the delivery of economic growth across the county.
David said: "It is a privilege to take over the helm from Graham Peters as the new chair. With the government changes affecting Local Enterprise Partnerships, this is a time of great change for business support in East Sussex, an outlook which will become clearer as government policy for the region emerges over the next few months.
"I hope to bring my business experience to this change in focussing on supporting regional economic growth alongside our partners in business, East Sussex County Council, District and Borough Council's Education providers and the voluntary/community sector."
As well as serving as TES' deputy chair, David was also chair or the Business East Sussex group. He is also a company director for D-RisQ Ltd and served on Sussex Chamber of Commerce, representing 1,000 businesses throughout the county in pursuing the growth agenda.
Welcoming the new chair, Rupert Clubb, East Sussex County Council's Director of Communities, Economy and Transport, said: "David brings with him a great deal of experience and knowledge which will help him lead Team East Sussex through the challenges that lie ahead and look out for the best interests of the business community and county as a whole.
"I'd like to add my thanks to the former chair Graham Peters who was a great ambassador for the county who worked hard to further the economic development and regeneration needed."
Since 2014, Team East Sussex has been delivering support to businesses, residents, visitors and to our places, realising more than £820 million of investment into the county.
Ends.