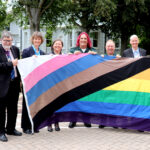 The Rainbow flag is once again flying above County Hall showing support for equality and diversity.
The flag, which represents not only lesbian, gay and bisexual but also trans, people of colour and others was raised at a special event on Monday, July 24.
Representatives from East Sussex County Council, Sussex Police, East Sussex Fire and Rescue Service, South East Coast Ambulance Service, and Sussex Community NHS Foundation Trust gathered to show their support for the LGBTQ+ community.
Becky Shaw, East Sussex County Council Chief Executive, said: "Raising the Pride flag demonstrates our commitment to supporting equality and diversity in our communities and we are delighted to once again to be able to join our colleagues from the emergency services and NHS to show our support."
Chief Fire Officer Dawn Whittaker, who attended the event on behalf of East Sussex Fire and Rescue Service, said: "Flying the Pride flag gives us, as a public service, the chance to show that we are here to support all members of our communities and also to promote and support the diversity of our own workforce. East Sussex Fire and Rescue Service will be supporting a number of Pride events this summer, across East Sussex and Brighton and Hove, promoting community safety and standing proudly with the communities we serve."
Sussex Police's Temporary Chief Inspector Kara Tombling said: "It was a privilege to join my colleagues today in rising the flag to commemorate the start of Pride events across East Sussex to show continued support for equality, diversity and inclusion across our entire community."
Steph Meech, South East Coast Ambulance Operational Team Leader, said: "We are proud to have joined other organisations in raising the Pride Flag. This was a demonstration of our steadfast commitment to stand with the LGBT+ community and show our solidarity visually. We support our LGBT+ staff and members of the community throughout the year and we are pleased to have been asked to support this annual event once again."
Jess Dare, from the Sussex Community NHS Foundation Trust LGBT network, said: "Staff across Sussex Community NHS Foundation Trust will proudly participate in this year's Brighton & Hove Pride Community Parade to demonstrate that we are an inclusive NHS care provider that serves the whole community regardless of sexual orientation or gender identity, and without discrimination.
"This year, we will walk with University Hospitals Sussex NHS Foundation Trust, Sussex Partnership NHS Foundation Trust and NHS Sussex under the banner of 'NHS in Sussex'. Each organisation has been allocated a set of colours from the progress pride flag so that collectively and visually, we create the whole flag.  The Pride celebrations are an opportunity for our staff to express and celebrate who they are together with LGBTQ+ allies."
This year's Brighton and Hove Pride runs on Saturday, August 5 and Sunday, August 6 with the Pride LGBTQ+ Community Parade travelling through the city centre from 11am on Saturday, August 5.
Eastbourne Pride 2022 is taking place this coming Saturday, July 29, with a parade through Eastbourne from 11am.
Seahaven Pride Family Festival takes place on Saturday, August 26, while Hastings Pride take place the following day, Sunday, August 27, with a parade through the town from 11am.
Ends