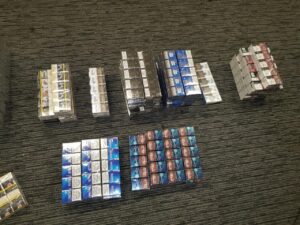 A HASTINGS shop owner has been fined thousands of pounds after being convicted of eight offences relating to illegal tobacco and vodka.
Following an investigation by East Sussex Trading Standards into the illegal sale of goods, Taha Khelani, 53, previously of Seaside in Eastbourne, was sentenced to a fine of £5,000 at Lewes Crown Court on Friday, July 28.
He was also ordered to pay full prosecution costs of £7,620.86 and a victim surcharge of £181.
Payment must be made in full within six months or Khelani will serve a three month prison sentence in default.
The offences, which took place in 2021 and 2022, concerned illegal tobacco and vodka offered for sale at Khelani's shop, Delboys on Castle Street in Hastings, and illegal tobacco found in the defendant's car.
Khelani was found guilty by a jury in October last year of four counts of the unauthorised use of a trademark, one count of placing unsafe food on the market, one count of falsely advertising vodka and two counts of supplying tobacco in incorrect packaging.
He also pleaded guilty to one count of breaching the Trademark Act and one count of breaching the Standardised Packaging Regulations.
The tobacco seized included both counterfeit products, which cannot be sold anywhere, and other tobacco in non-standard packaging which cannot be sold in the UK as it lacks the correct packaging and health warnings. The illegal tobacco, if genuine, had a retail value of over £31,000.
In sentencing Khelani, who did not attend the hearing, the trial judge HHJ Chapple said: "There are sentencing guidelines for the trade mark and food safety offences. They are the most serious as they deal with the risk to public health and the products could put the public at risk.
"There was evidence that the two bottles of Krackoff [vodka] were injurious to health.
"He pleaded not guilty to nearly all the offences so he gets no credit."
At an earlier hearing in May, HHJ Huseyin made a Confiscation Order for the sum of £19,109.22 which Khelani was ordered to pay within three months or face a default sentence of nine months' imprisonment.
HHJ Huseyin also made a forfeiture and destruction order for all the tobacco and alcohol seized.
Taha Khelani breached bail by not attending the sentencing hearing. He is believed to be in Germany where he has citizenship. Anyone with information about his whereabouts is asked to contact Trading Standards on 0345 608 0197 or at trading.standards@eastsussex.gov.uk.
Andy Clooney, East Sussex Trading Standards Team Manager, said: "This sentence sends out a clear message that the sale of illegal goods will not be tolerated and offenders will be pursued through the courts.
"Selling counterfeit alcohol and tobacco not only breaches trade marks legislation but harms the trade of legitimate suppliers and damages consumer confidence.
"The sale of cheap tobacco is widely acknowledged to negatively affect communities and undermines the efforts of stop smoking services. People who sell illicit alcohol are also potentially putting lives at risk as it is not subject to the usual stringent checks and safeguards so there is no way of knowing what it might contain."
Members of the public are encouraged to play their part in helping East Sussex Trading Standards keep illegal products off the streets by reporting anything suspicious.
Anyone with information about illegal tobacco sales is urged to report it online at www.stop-illegal-tobacco.co.uk or by calling the illegal tobacco helpline on 0300 999 6 999.
For consumer advice, or to report a concern to Trading Standards, people can contact the Citizens Advice consumer helpline on 0808 223 1133, or use their online reporting page which can be found at www.eastsussex.gov.uk