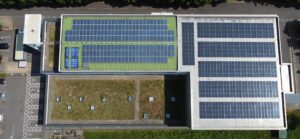 EFFORTS to reduce carbon emissions from council buildings across the county have been boosted by the latest installation of solar panels.
The Keep in Moulsecoomb became the 13th building to have panels fitted as part of East Sussex County Council's climate emergency plan.
Within just 12 months, the new installation is expected to save 23 tonnes of CO2 – the equivalent to more than 2.7 million smartphone charges, and save around £45,000 in energy bills.
The work at the archive centre was funded by ESCC's Climate Change budget with contributions from Brighton & Hove City Council and the University of Sussex.  It was carried out by Polegate-based CDS Electrical Services Ltd who, together with Brighton based AJ Taylor and Frankham Consulting Group, have delivered 12 projects across the county since 2021.
Cllr Nick Bennett, East Sussex County Council's Deputy Leader and Lead Member for Resources and Climate Change, said: "We are delighted to see the completion of another solar panel project, which takes us a step closer to achieving our ambitious target of becoming carbon neutral as soon as possible and by 2050 at the latest.
"It's projects like these, such as installing heat pumps in schools and using clean energy for street lighting, that will help us reach our goal."
As well as the 13 solar panel installations, in the last two years East Sussex County Council has completed 20 LED lighting projects and installed low carbon heating in two of its buildings.
The council continues to seek opportunities to reduce its carbon emissions and to train site managers across the county on the benefits of energy efficiency.
The county council has committed to invest nearly £10m over three years to support the efforts to cut corporate carbon emissions and continue to work to identify projects and additional funding that will help it become a carbon neutral authority.
More information about the actions the council is taking to cuts its carbon footprint can be found at https://new.eastsussex.gov.uk/environment/priorities