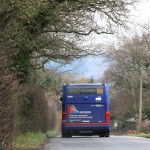 TRAVELLING around East Sussex has never been easier thanks to the most significant improvements to bus services in a generation.
As part of the ambitious East Sussex Bus Service Improvement Plan (BSIP), £10.5 million of Government funding has been invested into improving bus services across the county.
Every district and borough has benefitted from the enhanced services with new hourly daily services in some areas, frequency enhancements, and additional evening and weekend journeys in others.
Cllr Claire Dowling, the county council's lead member for transport and environment, said: "The enhancements we have been able to make to bus services in East Sussex have opened up routes that haven't been available before and will not only make it easier for people to travel around the county, but will help boost the local economy.
"With the support of bus operators, residents in every district and borough will now have access to more frequent services, with many now able to use new evening and weekend services. We hope these changes will encourage even more people to use public transport."
The raft of improvements include;
A new hourly daily service between Heathfield, Blackboys, Uckfield, Lewes and Brighton
A new half-hourly Monday to Saturday daytime service linking Eastbourne, Hailsham, Laughton, Ringmer, Lewes and Brighton
A relaunch of routes 254, 304 and 305, now numbered Route 1066, with additional evening journeys and a new Sunday service linking Hastings and Tunbridge Wells
Doubled frequency of the Eastbourne Loop service between Langney Shopping Centre and Eastbourne town centre via the Sovereign Centre and Seaside
Significantly more evening and Sunday services, including in and around Hastings, Bexhill, Rye, Hailsham and Eastbourne
The improvements have been made possible thanks to a £41.4 million grant from the Department for Transport for the implementation of the East Sussex BSIP.
Roads Minister Richard Holden said: "People up and down the country deserve a modern, reliable, and affordable public transport system. That is why we have provided East Sussex County Council with more than £41 million to boost its bus services.
"It's been fantastic to see how much bus services in East Sussex have improved thanks to the BSIP funding invested so far. I'm confident the local bus network will continue to grow from strength to strength, supporting the local economy and ensuring residents can get to work, attend medical appointments, and see loved ones more easily."
As well as the service enhancement's, the ambitious plan has resulted in reduced fares and the successful introduction of an on-demand bus service, FlexiBus, in the rural areas of the county which haven't had access to a bus service.
Physical changes to junctions and road layouts to improve reliability of services and reduce congestion are also out for public consultation.
Visit the East Sussex County Council website for a full list of improvements.
Ends.