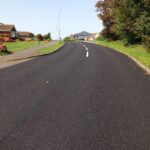 ROADS across East Sussex have been given a new lease of life thanks to an annual highway improvement programme.
Surface dressing has been carried out on 17 sites this year, extending the life of almost 30km of road by up to 10 years at a fraction of the cost of removing and replacing the road surface.
The programme involves coating roads with hot bitumen and chippings, a method which improves safety by giving vehicles more grip and protects the surface from pothole-causing frost and water damage and slows their natural deterioration.
This year, an additional surface seal was applied to eight of the surface dressing sites where there is additional stress due turning vehicles or where vehicle speeds are higher.   This will strengthen the roads further and help prevent defects, cracks and potholes from forming.
Cllr Claire Dowling, East Sussex County Council's lead member for transport and environment, said: "We know that potholes and defects are a cause of frustration to residents and motorists, which is why we invest in treatments that help prevent them forming in the first place.
"Surface dressing is a relatively straightforward and cost-effective way of targeting roads most at risk of wear and tear, preventing serious deterioration and the need for more costly reconstruction work.
"Although the surface dressing programme has been completed, county council investment in our roads continue with extra investment to £15.7 million agreed this year on top of the £20.2 million we already spend on our carriageways each year."
More information on work taking place across East Sussex can be found at www.eastsussexhighways.com
Ends.