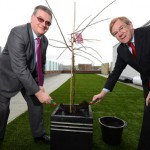 THE final bricks have been laid in a multi-million pound library complex in Seaford.
The £6million development will include a new library and café, supported living flats for adults with learning disabilities and offer services for older people.
Building work began on the Sutton Park Road project in October 2012 and this week representatives from East Sussex County Council and Saxon Weald Homes, who will manage the supported living accommodation, marked the final stages of the building work.
The innovative scheme is the first of its kind in the county and is part of an ongoing investment into library services by East Sussex County Council, which will also see new facilities built in Hastings and Newhaven.
Cllr Chris Dowling, the council's lead member for community services, said: "Libraries are at the heart of our communities and the council's investment in Seaford and elsewhere shows the importance we place on the service.
"We now have a great site in which to provide a fantastic state-of-the-art facility for the people of Seaford."
The scheme will support a new service to offer more direct access to resources in the community for older people with dementia or other mental health problems who have been assessed as needing support to help them live independently.
Councillor Bill Bentley, the council's lead member for adult social care, said: "It is great to see this project nearing completion. This innovative building will make a huge difference to our clients and their families and carers."
The Seaford complex is expected to open in early Summer 2014. While work is carried out, library services continue to be offered from the temporary library at Elm Court, in Blatchington Road, Seaford, while the day service continues at Homefield Place until the building is completed and ready for use.