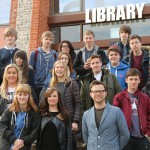 MURDER, mystery and football were among the topics of a film project undertaken by students from East Sussex.
The scheme, a partnership between Lewes Library and Sussex Downs Lewes College, saw BTEC Film and TV production students tasked with producing a series of one-minute films with a Sussex theme.
Students researched and prepared their films at the library, which last week (WED 5) hosted a cinema-style premiere attended by students, their families, friends and other invited guests.
The films included an investigation by 17-year-old student Kate Brown, from Crowborough, who discovered that her own family home stood on the site of one of the county's most notorious murders.
In 1926 Norman Thorne was executed for murdering his fiancée, Elsie Cameron, before dismembering and disposing of her body at the chicken farm he ran at the junction of Luxford Lane and Luxford Road, a case which became known as the Chicken Run Murder.
Other films included a profile by 17-year-old Jack Carter, from Brighton, of his cousin, former Brighton & Hove Albion defender Kerry Mayo, and a film by 16-year-old Katie Beard, from Burgess Hill, probing her grandfather's links to a historic East Sussex rail crash.
Cllr Chris Dowling, East Sussex County Council lead member for community services, said: "This scheme is a great example of how libraries play an important part in their community, supporting learning and helping people to discover the captivating history of our county.
"The students have produced a really impressive array of films which offer a fascinating insight into life in East Sussex in the past and the present."
Daniel Ford, curriculum leader for media at Sussex Downs Lewes College, said: "Taking on real projects is essential for young creative film makers.
"Working with the library was a fantastic opportunity to investigate stories right under our noses and breathe fresh life into them.
"We hope they are enjoyed and inspire a closer look at the strange and startling stories that are available in the wonderful library."
The films are currently being shown on a loop on the projector at Lewes Library, in Friars Walk.
Students from Sussex Downs Lewes College (pictured), with Daniel Ford, curriculum leader for media (front right), produced short films with a Sussex theme as part of a partnership between the college and Lewes Library.
The films produced as part of the scheme are listed below:
Football Is My God
An interview with Kerry Mayo – Brighton and Hove Albion legend.
Jack Carter, 17, from Brighton interviews and profiles his cousin Kerry Mayo for the Lewes Library project.
Chicken Run
Did the Crowborough chicken coop murder happen in my house?
Kate Brown, 17 from Crowborough, uncovers some unsavoury truths.
At The World's End
Did my great grandfather cause the Keymer Junction train crash?
Katie Beard, 17, from Burgess Hill, investigates the origins of this local disaster.
Jack Me If You Can
Was there a connection between Jack the Ripper and Edwin Baxter's to a spate of killings in Lewes?
By Zak Comyns 16, from Brighton
Fire!
A personal perspective of Lewes Bonfire night from a Commercial Square smuggler.
By Cameron Vincent 16, from Lewes
Sinking Stones
The tragic death of visionary writer Virgina Woolf in the River Ouse.
By Leila-Mae Rummery 16, from Lewes
Dragon's Bane Pie
How the legendary Knucker Dragon of Sussex was defeated by a pie.
By Marcus Long 16, from Brighton