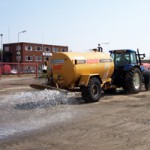 CREWS working on the new Bexhill to Hastings Link Road are employing a high-tech approach to dealing with dust.
East Sussex County Council is using a special piece of equipment called 'Dustbuster' to reduce the amount of dust being created by vehicle movements on the site.
It works by reducing the surface tension of the water, which in turn increases the number of droplets available to wet the road. It increases the penetration of the road surface which means it takes longer to dry out and is therefore effective for longer.
The technique also helps the environment by reducing the amount of water needed to treat road surfaces, and is used in a concentration of one part per thousand parts of water.
Bob Pape, East Sussex County Council's Link Road project manager, said : "This is a tried and trusted product which has been proved to reduce the amount of dust being disturbed by vehicles.
"We are doing our best to minimise the inconvenience to residents and businesses from the work on our site."
The product is biodegradable and will not contaminate streams, vegetation, or soil or harm wildlife.
The 3.5 mile link road, which is on course to open in May 2015, will bring major economic benefits to Bexhill and Hastings including 2,000 new homes, 3,000 new jobs and more than £1 billion of economic benefits.
It will also relieve the high level of traffic congestion on the A259 between the two towns.