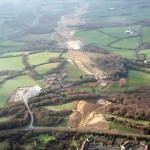 THE latest developments on the new Bexhill to Hastings Link Road will be in the spotlight at a series of public exhibitions.
East Sussex County Council is holding the events in St Leonards, Crowhurst and Bexhill to update residents on how the scheme, expected to provide a £1 billion economic boost to the area, is developing.
The exhibitions will include maps, photographs and information on recent and future developments, including the opening of the first section of the road as a diversion route while Ninfield Road Bridge is demolished.
People attending will also have the chance to put any concerns or comments directly to members of the Link Road team.
Bob Pape, the county council's Link Road project manager, said: "Previous construction exhibitions have been very well attended and we're hoping for another good turnout at these events.
"We've entered a very exciting phase of the development, with the new road continuing to take shape and motorists getting a sneak preview with the temporary opening of part of the route.
"More significant developments are underway, including the demolition of Ninfield Road  Bridge and construction of its replacement.
"These exhibitions will give people a chance to get up to date with the progress we've been making, to see what's coming up and to speak to members of the team."
The Link Road is expected to bring 2,000 new homes, 3,000 jobs and more than £1 billion of economic benefits, while relieving traffic congestion on the A259 between Bexhill and Hastings and other local roads.
The events will be held at West St Leonards Community Centre, in Filsham Road, on Tuesday, November 25 2014, the Plough Inn, in Chapel Hill, Crowhurst, on Wednesday, November 26 2014 and Sidley Children's Centre, in Ninfield Road, on Thursday, November 27 2014.
All the exhibitions run from 3.30 to 6.30pm. More information is available online at www.eastsussex.gov.uk/linkroad