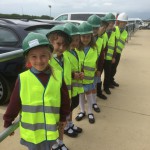 THE Bexhill to Hastings Link Road has been praised by an independent construction body for its environmental work, liaison with the local community and safety record.
The scheme was graded as 'exceptional' in three categories and 'excellent' in the other two which were assessed under the Considerate Constructors Scheme.
The report followed an inspection of the project, interviews with the local community and analysis of work with local schools, colleges and charities.
It found the Link Road site was 'at the forefront of industry best practice, demonstrating the very highest level of achievement'.
The report praised the environmental protection work carried out and drew attention to the work with the local community, where the Link Road team had 'made exceptional efforts and communicated with 1,000 stakeholders and the large population of the local conurbation'.
Meanwhile, the team's fund-raising efforts for local charities, work with schools and volunteering for local causes, including the Hastings Pier restoration project, were also highlighted.
Bob Pape, East Sussex County Council's Link Road project manager, said: "I am delighted by the independent assessor's comments, which are a tribute to the continuing hard work of the entire team."
The attention to safety and the training given to staff working on the project were also praised.
The Link Road was graded 'exceptional' in the categories of protecting the environment, respect for the local community and safety and 'excellent' for the appearance of the project and for valuing the workforce.
Karl Taylor, the council's assistant director of operations, said: "It is very pleasing that an independent group has delivered such high marks after a thorough analysis of all the aspects of our work on the project."
The Considerate Constructors Scheme is a non-profit, independent national organisation set up to improve the image of the industry by encouraging sites to go above and beyond their statutory requirements to deliver the highest standards.