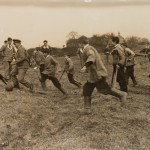 THE heart-warming story of how children and young adults with disabilities from East Sussex helped wounded soldiers is the latest addition to a First World War website.
Servicemen who had lost limbs in the conflict were sent to Chailey Heritage Craft School, set up in 1903 to provide a home and education for children with disabilities, to learn from the youngsters how to overcome their injuries.
At the school, an 'educative convalescence' programme allowed soldiers and children to learn and play together through activities such as agriculture, toy making, painting, music and sports.
The youngsters even built their own wooden huts, which they moved into to allow their original building, a former workhouse, to be used as a hospital for the wounded soldiers.
The experiences of the children and soldiers are documented in a photographic album pamphlet held in the permanent collection of The Keep, the county's archive centre at Falmer, excerpts from which have been published on East Sussex County Council's First World War website.
Council leader Keith Glazier said: "I find the story and images from Chailey Heritage to be striking – the important role played by the school children in the war effort is powerful and the way they and the soldiers worked together is inspiring.
"This tranquil corner of rural East Sussex must have seemed like a sanctuary for servicemen who had experienced the horrors of the Western Front.
"The school played a vital role in enabling soldiers who had suffered horrific injuries to learn from the experiences of the children, to cope with their disability and to build a new life for themselves after the war."
The album features pictures of activities at the school, the construction of the huts and visits from dignitaries including Queen Alexandra, spouse of King Edward VII, and Margaret Lloyd George, wife of Prime Minister David Lloyd George.
Following her work as a patron and fundraiser for the new hospital, the facility was named the Princess Louise Military Hospital and was located on the current site of the Chailey Heritage Foundation.
The hospital was closed as a place for soldiers by the War Office in 1920, when officials praised the 'excellent vocational and curative work' in arts, crafts, sport and agriculture, which had 'set an example others have been quick to recognise and imitate'.
Excerpts from the photographic album and many other First World War stories can be found online at www.eastsussexww1.org.uk