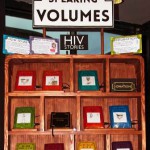 AN AUDIO display telling the stories of people living with HIV will arrive at Eastbourne Library on December 1.
The Speaking Volumes project will be launched at the library in Grove Road between 5pm and 6pm on December 1, which coincides with World Aids Day, and the display will remain until January 5.
The project, funded by the Big Lottery Fund and in partnership with the Terence Higgins Trust and East Sussex Library and Information Service uses audio books containing first person accounts of living with HIV and includes those of at least two East Sussex residents.
Councillor Chris Dowling, lead member for community services at East Sussex County Council, said: "There is often widespread misconception about HIV which leads to people being stigmatised.
"This project will help to break down those barriers by enabling people to hear first-hand from those people living with the condition."
The audio books have already proved popular while on display at Hastings Library in October and Lewes Library in November.
Lewes, Hastings and Eastbourne were chosen as venues for the project as these areas have HIV rates above the national average.
Find out more about the Speaking Volumes Project by visiting www.speakingvolumesproject.org
The event in Eastbourne will also launch Terence Higgins Trust's new range of services for East Sussex, which are funded through the 2014 East Sussex County Council Prospectus. These services will provide awareness and support to those identified as being at particular risk of contracting HIV and all for those already dealing with the impact that the condition has on their life.