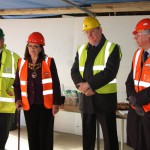 A CEREMONY has been held to mark a milestone in construction of a new extra care scheme being built in Hailsham.
Bentley Grange, in Battle Road, will allow older people with care and support needs to live independently in the community.
The £10 million pound project is a partnership between East Sussex County Council, Wealden District Council and Saxon Weald, the housing association that will own and manage the scheme.
Representatives of the partner organisations and construction firm Bouygues UK, which has significant experience in delivering extra care schemes around the country, took part in a traditional 'topping-out' ceremony, which marks the new building reaching its topmost point.
The new development includes 45 flats, a restaurant, lounge and activity room, hairdressing and pamper suite and landscaped gardens, with many of its facilities available for community use.
The scheme will offer 24-hour on-site care, and also includes a neighbouring development offering 10 flats for people with learning disabilities.
The scheme is the sixth in a series of extra care schemes delivered by the county council and its partners.
Cllr Bill Bentley, East Sussex County Council lead member for adult social care, said: "It was great to see the fantastic work of the architect and builders in producing a very high quality building which will be a real asset to Hailsham.
"Extra care schemes such as this one, and the others we've delivered across the county, allow older people to live independent lives but with the peace of mind of knowing help and support is close at hand.
"It will also mean couples can stay together, even if one of them needs care, and will offer a safe, welcoming, environment which is also at the heart of the wider community."
The scheme, which is being funded by a mixture of private finance raised by Saxon Weald and £1 million in grant funding from the county council, is expected to create 30 new jobs.
A total of 35 flats are available for affordable rent and will be offered to local people with care needs who are eligible for housing through Wealden District Council. The remaining 10 flats will be offered for sale on a shared ownership basis
Cllr Graham Wells, district council cabinet member for housing, said: "It is great news for the people of Hailsham that a new purpose-built extra care housing scheme will be opening this year to support older people in the area.
"The extra care scheme in Uckfield has already proved a great success and we are working with the county council to develop additional schemes in other parts of Wealden."
Simon Turpitt, chairman of Saxon Weald, said: "This is our fourth extra care housing scheme in East Sussex and we know that it will give older people in Hailsham an independent, secure home within a friendly and caring community."
The development is expected to be completed and to welcome its first residents in late August or early September.