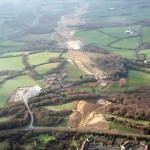 THE Bexhill to Hastings Link Road has won fresh praise following an inspection by an independent construction body.
The project has been graded under the Considerate Constructors Scheme as exceptional in four areas – protecting the environment, safety, working with the community and valuing its workforce.
Following an inspection in January, the Link Road was also ranked as excellent in its appearance around the site as work progresses.
The independent inspector, making his second visit to the site, highlighted the scheme's 'outstanding' environmental work, praised the safety training given to all workers as 'exceptional' and singled out the commitment of the community liaison officer for her work with residents.
The report says: 'The site continues to operate to outstanding levels of performance. The appearance and image are still to an excellent standard despite the adverse conditions.'
Bob Pape, East Sussex County Council's Link Road project manager, said: "We are all delighted by the independent assessor's findings.
"To be graded as exceptional in four areas and excellent in the other is a tribute to the hard work of everyone involved in the project."
The overall score was 44 out of a possible 50 in the five categories assessed, one higher than the previous grading carried out last year.
Karl Taylor, county council assistant director of operations, said: "To achieve another set of high marks from an independent site inspection, and to improve on the standard of the last inspection, is very pleasing and I would like to thank everyone involved."
The Considerate Constructors Scheme is a non-profit making, independent national organisation designed to encourage performance above statutory requirements.