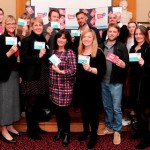 A TOTAL of 269 employers have vowed to hire an apprentice since a county-wide campaign kicked off.
The aim of the five-month You're Hired campaign is to get 500 businesses across the five districts and boroughs of East Sussex to hire an apprentice.
East Sussex County Council has teamed up with district and borough council, business groups, colleges and training centres, the National Apprenticeship Service and Apprenticeships in Sussex for the initiative.
Since the launch events on Monday, March 9, 269 employers have promised to take on an apprentice, offering on-the-job training and qualifications.
"We are delighted with the response we have received and are more than halfway to our target," said Becky Shaw, East Sussex County Council's chief executive. "Employers are already recognising the benefits of hiring an apprentice and we hope many more will join our campaign."
The launch events were held simultaneously in Lewes, Hastings and Eastbourne, compered by a prominent member of the local business community and gave employers the opportunity to find out about apprenticeships.
TR Fastenings Ltd, an Uckfield-based global manufacturer and distributor of industrial fastenings and associated components, was one of the 260 businesses that pledged to take on an apprentice.
Helen Toole, the company's HR manager, said: "It is a really exciting initiative to be able to bring young local people into the business through structured training programmes, not only giving them experience of the business world but also providing them with a nationally recognised qualification.
"We hope that all our apprentices go on to have successful and fulfilling careers with the company."
Becky Shaw added: "Supporting and encouraging local business growth is a key priority for East Sussex County Council. The You're Hired campaign is just one of a number of initiatives aimed at boosting employment and ensuring relevant and high quality training is available.
"As part of our employability and skills strategy, we are working closely with local secondary schools, colleges and universities and businesses to ensure young people in East Sussex receive the best training possible and can start a successful career in their home county."
Businesses interested in hiring an apprentice or finding out more about the benefits, can visit www.eastsussex.gov.uk/hired or call the National Apprenticeship Service on 0800 015 0600 or visit www.apprenticeships.gov.uk
Anyone interested in becoming an apprentice can call 0800 0150 400 or visit www.apprenticeships.gov.uk
Anyone aged between 16 and 19 who requires further support can contact the East Sussex Youth Employability Service (YES) on 01323 410803 or 01424 722045, or at www.facebook.com/yeseastsussex
The launches:
The Eastbourne launch was held in the Town Hall and was compèred by Martin Ellis, Business Development Manager at Recruitment South East. Employers and apprentices from Crowhurst Park Holiday Village and Sussex Downs College shared their apprenticeship experiences with the audience, and catering was provided by Sussex Downs College.
The Hastings launch was held at Stade Hall and was compèred by Keith Ridley, now consultative editor of the Herald and Gazette and formerly editor-in-chief for Johnston Press in East Sussex. Employers and apprentices from Talkative Online and Hastings Borough Council took to the stage to share their apprenticeship experiences, while catering was supplied by Sussex Coast College.
Lewes Town Hall was the venue for the third launch, compèred by Phil Ashford, Founder and Director of Enterprise Exchange. Employers and apprentices from Famiglia restaurant and TR Fastenings shared their apprenticeship experiences with the audience, while catering was supplied by Famiglia with beer and wine contributed by Harveys and Plumpton College respectively.
You're Hired East Sussex is being led by East Sussex County Council in partnership with the National Apprenticeship Service, Apprenticeships in Sussex, the Federation of Small Businesses, The Alliance of Chambers in East Sussex (ACES), Lewes District Council, LEAP, Eastbourne Borough Council, Wealden District Council, Hastings Borough Council, Rother District Council, Eastbourne Jobs Hub, the Youth Employability Service (YES), Plumpton College, Sussex Downs College, Sussex Coast College, Central Sussex College, Rewards Training, Youthforce, HIT Training, JTL Training, Ixion Holdings, Abacus Training, 3aaa Training, and Steve Willis Training Centres.