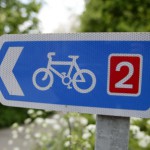 COUNCIL chiefs are urging residents to be vigilant after more than a hundred trees were ripped from the ground along the Lewes to Ringmer cycleway.
In three separate incidents, nearly 150 trees have been torn from the ground and fencing damaged in the process.
The latest theft happened over the Easter weekend when 45 trees were taken and fencing along the route cut to enable the vandals to gain access.
This followed incidents over the two previous weekends in which hornbeam, rowan and field maple trees were taken.
"It is hugely disappointing that the hard work by council staff and contractors to create an attractive cycle route for the residents of East Sussex and visitors to our county has been destroyed by mindless thieves," said Mark Valleley from East Sussex County Council, whose team was involved in designing and implementing the cycleway.
"As well as ruining the aesthetics of the route, these thefts are hitting the taxpayer in the pocket. Furthermore, the way in which the trees have been ripped from the ground means those responsible have probably killed them in the process."
The trees were planted by the council's contractor as part of the project to create a safe off road transport link for use by pedestrians and cyclists between Lewes and Ringer and open up access to the South Downs National Park.
In a bid to prevent further damage and catch the culprits, residents are being urged to keep an eye out for suspicious behaviour and report it to Sussex Police.
"These thefts have cost the taxpayer hundreds of pounds and we would urge everyone in the area to be vigilant and help us prevent further damage," Mr Valleley added.
Anyone who has witnessed suspicious behaviour along the route, which runs alongside the B2192, or has been offered or sees similar trees for sale, can contact Sussex Police on 101 or email 101@sussex.pnn.police.uk
Ends.