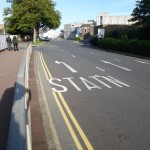 WORK is about to begin on the latest phase of a cycle and pedestrian route in Eastbourne.
On Monday, October 5 2015,  East Sussex County Council contractors will begin work on the section of the Horsey Way cycle route between Eastbourne railway station and Ringwood Road.
The first phase of the two-mile scheme to be completed was opened in 2013 while the route will ultimately link the railway station with the Langney roundabout.
The next phase, which will be carefully co-ordinated to avoid disruption to the redevelopment of the Eastbourne Arndale Centre, will begin with work between the Kwik Fit garage, in Ashford Road, and Susans Road.
This section should be completed by the end of November, while a section between Terminus Road and the Kwik Fit garage will be carried out by Southern Rail contractors, who will work on the cycle route as they complete a new drop-off area for rail passengers.
In the New Year, the council's contractors will extend the cycle route to Cavendish Place, with work expected to be completed by March 2016. The remaining section of  this phase of the route up to Ringwood Road is expected to be completed in  2016.
Cllr Carl Maynard, East Sussex County Council lead member for transport and environment, said: "This route will offer a valuable facility for cyclists and pedestrians and help to reduce congestion, and improve air quality and health.
Careful co-ordination and planning, and working with our colleagues at Southern Railway, means we will be able to avoid adversely affecting the work going on around the Arndale Centre.
There will be some disruption, including temporary closures of the junctions of Ashford Road with Junction Road and Susans Road, but we will keep people informed throughout."
The cycle route scheme was launched following a public consultation in 2010 in which 90 per cent of respondents said they supported the route.
The route has been developed by East Sussex County Council in partnership with sustainable transport charity Sustrans, Eastbourne Borough Council and town cycling campaign group Bespoke.
The first phase, opened in 2013, linked Ringwood Road and Lottbridge Drove, while the third, and final phase of the scheme will connect Lottbridge Drove to Langney roundabout.