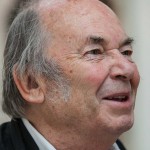 THE work of one of Britain's best-loved storytellers is the inspiration behind an initiative aimed at getting youngsters to use East Sussex libraries this summer.
This year's Summer Reading Challenge is running under the theme of 'The Big Friendly Read' and marks the 100th anniversary of the birth of Roald Dahl.
The initiative sees children aged from four to 11 given a special collector's folder which they can complete by earning six special cards – by borrowing and reading six books during the summer.
The cards explore some of the most popular themes in Dahl's work, and feature artwork by his principal illustrator, and East Sussex resident, Sir Quentin Blake (pictured).
Meanwhile, events will be happening at libraries across the county to coincide with the Big Friendly Read, which runs until Saturday, September 10.
Cllr Chris Dowling, East Sussex County Council lead member for community services, said: "Each year, the Summer Reading Challenge does a great job in getting children involved with their local library, fuelling their love of reading and encouraging them to keep up with their reading during the holidays.
"This year's event should be even more special than usual, as it is centred around the tales of an author who has inspired generations of children and adults, and the artwork of an illustrator who has done so much to bring his stories to life."
Events running in conjunction with the Big Friendly Read are free of charge and include circus workshops featuring a visit by Jimmy the Juggling Jester on Saturday (July 30) at Eastbourne Library from 11am to noon and Bexhill Library from 2pm to 3pm. No booking is required.
Meanwhile a series of events named Dahl's Delights will offer stories and craft sessions for children aged five and above.
They will be held at Newhaven Library on Tuesday, August 16 from 2 to 3.30pm, Seaford Library on Saturday, August 20 from 10 to 11.30am and Crowborough Library on Tuesday, August 23 from 10.30am to noon.
Places for the Dahl's Delights events are limited so people are asked to book in advance by telephoning 0345 6080196 and asking for the library holding the event, or booking in person at the library.
Children can sign up to The Big Friendly Read by visiting their local library, while more information is available online at http://summerreadingchallenge.org.uk/ or by downloading the Big Friendly Read app.
The Summer Reading Challenge is a national initiative organised by The Reading Agency. Last year more than 800,000 children across the UK took part.