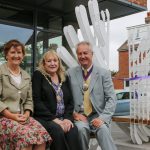 AN event has been held to mark the official opening of a striking new addition to the street scene in Seaford.
The new bench, in Sutton Park Road, sits outside the state-of-the-art Warwick House complex, housing the town library, a day service for older people and supported living accommodation.
It was created by artist Peter Yarwood as part of the Transparent art project funded by Arts Council England, East Sussex County Council and Seaford Town Council.
The event on Thursday, July 29 2016 included a session where youngsters were asked to draw a picture inspired by the bench and invent their own word to describe the unique structure, with their work to be displayed inside the library.
Cllr Chris Dowling, East Sussex County Council lead member for community services, said: "I very much welcome the investment the Arts Council has made in Seaford and this striking new addition has proved to be something of a conversation point among people in the town.
"Aside from its role as an artistic addition to the town centre, it also provides a nice place for residents, shoppers and library visitors to sit.
"The children showed a great deal of creativity in coming up with a variety of bench-inspired drawings and words to describe the new installation."
Among the words children came up with to describe the bench were 'MeetyGreetySeat', 'Swanilicious', 'Marvel-oz-dream bench', 'Punky Pigeon', 'Benchilicious', and 'Thisisaseasidesuperooperdooperwingingsingingseat'.
The bench was created and installed with £20,000 of Arts Council England lottery funding, £2,500 from East Sussex County Council and £100 from Seaford Town Council.