STUDENTS from Eastbourne tried their hand at robotics as part of a scheme aimed at strengthening links between schools and local businesses.
The 'Robolympics' event, at The Causeway School, saw youngsters working in teams to build robotic arms and completing Olympic-themed challenges. Watch our video:
The event was hosted as part of the Enterprise Advisers scheme, funded by the Careers and Enterprise Company and Skills East Sussex, the county's strategic body for employment and skills.
The initiative sees volunteers from local businesses from the Skills East Sussex priority sectors working with schools to help them develop their careers, enterprise and employer engagement strategies.
The Enterprise Adviser at Causeway is Matthew Lee, from Eastbourne-based electronics firm Paxton Access, which donated the robotic equipment used by pupils, who worked closely with Sam Weller, business teacher at Causeway.
Mr Lee said: "The day was a good learning experience and I was impressed by how the school helps students develop the qualities employers are looking for. It is important they are helped to understand the different routes into employment available to them."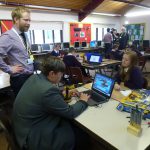 Students were scored on their success in completing tasks as well as their ability to demonstrate key attributes including teamwork and problem solving.
Gene Payne, head teacher at Causeway, said: "It was hugely beneficial for our students to be able to work so closely with Paxton Access, to get an insight into what it is like to work in an electronics business, and to benefit directly from the Enterprise Adviser programme – they were inspired by the session."
The Enterprise Adviser network was launched in East Sussex in November. A total of 21 schools already have enterprise advisers in place while the council is working to link the remaining secondary and special schools.
Cllr Nick Bennett, East Sussex County Council lead member for education and inclusion, said: "The Enterprise Adviser scheme has already played a huge role in getting young people involved in the world of work and helping them to develop the skills employers need."
Schools or businesses wanting to participate in the Enterprise Advisers scheme can contact Debbie Martin or Sarah Freeman, enterprise co-ordinators, by emailing EnterpriseCoordinator@eastsussex.gov.uk