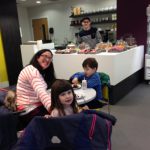 THE OWNER of a Lewes tearoom has set up shop in Seaford Library after being chosen to run its new café.
Christian Hopper, owner of Lewesiana in Lewes High Street, was successful in his bid to operate the eatery at the facility in Sutton Park Road and has now opened Chapters Café @ Seaford Library.
Earlier this year East Sussex County Council invited businesses to bid for the opportunity to run the café which forms part of the £6million Warwick House development, home to the new library, a day service for older people and supported living accommodation.
"As a library user it was such an appealing space and prospect that I simply couldn't resist putting a bid in – and I was delighted to win," said Christian. "The library team are great and we can't wait to listen and respond to our varying customers' needs.
"Having lived here for 10 years, the town is evolving and I want to be part of that, helping Seaford to thrive as an attractive and welcoming place for all residents and visitors regardless of age or budgets."
Christian has vowed to offer high quality food and drink at affordable prices and has employed his experienced Lewesiana tearoom manager and fellow Seaford resident Guillaume Aron to ensure Chapters Café@ Seaford Library is a success.
Cllr Chris Dowling, lead member for community services said: "We are delighted to welcome Christian and are confident that Chapters Café @ Seaford Library will be a great addition to the facility.
"The café will have a wide and varied clientele, including library and day service users, residents and people who just want to pop in for something to eat or drink, or a snack to take away and I am sure that Christian and his team will be able to provide something for everyone."
The café, which boasts free WiFi, launched a full menu from Monday, November 14, which includes allergen friendly and healthy options.