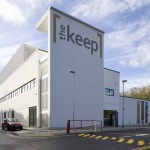 A STATE-of-the-art East Sussex archive centre has received national accreditation for the high quality of service it provides.
The Keep, in Moulsecoomb, has been awarded Archive Service Accreditation by the National Archives, recognising attainment of national standards in its management, resourcing, care of its collection and customer service.
The accreditation panel praised the 'transformative' impact of the centre and the 'impressive range of good work' it has offered since opening in October 2013.
The building brings together collections of the East Sussex Record Office, the local history collections of Brighton's Royal Pavilion & Museums and special collections of the University of Sussex.
Cllr Chris Dowling, East Sussex County Council lead member for community services, said: "The Keep is a world class archive centre which has really set the standard for such facilities in the UK.
"The centre brings together under one roof an unrivalled, detailed record of this region's history dating back over 900 years and provides a valuable service to those researching family or local history.
"This accreditation is testament to the hard work of all the staff and partners who have worked so hard to make The Keep such a success since it opened three years ago."
The Keep holds a varied collection of records relating to East Sussex and Brighton & Hove, including parish registers, records of baptisms, burials and marriages, court records, maps and newspapers.
The special collections of the University of Sussex include the Mass Observation Archive of diary entries written by ordinary people and archives of papers and correspondence from renowned writers and artists, such as Rudyard Kipling, Virginia Woolf and Richard Attenborough.
Fiona Courage, the University's Special Collections Manager, said: "To achieve Archive Service Accreditation is a wonderful validation of the innovative partnership that we have been able to build at The Keep.
"By working together we have been able to create an effective and resilient environment for our collections, preserving them and opening them up to diverse audiences within our local communities and beyond."
More information is available online at www.thekeep.info