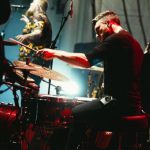 A MUSIC teacher from East Sussex is giving up up his day job for a full-time role playing with one of the country's hottest new artists.
Ben Thomas has spent the last three years combining his role teaching youngsters drums and percussion for East Sussex Music with his duties as a drummer with Rag 'n' Bone Man.
But with the latter's blues-inspired grooves propelling him to the upper reaches of the charts, Mr Thomas is throwing in his lot full-time with his former Uckfield Community College schoolmate.
The 30-year-old, originally from Buxted but now living in Brighton, has come full circle having received drumming lessons with East Sussex Music from the age of 11 and has been a teacher himself for nine years.
He said: "It's going to be difficult to leave it behind because I've been with some of the kids from primary school through to sixth form, but you have to take these opportunities when they come along.
"I've really enjoyed it and it's been inspiring, especially when you see a student come in the next day and they've done what you asked them to do and put the extra work in.
"I don't like to blow my own trumpet but the kids have found out about what I'm doing and they're really excited – it's nice to show them what's possible if you work hard enough."
Rag 'n' Bone Man, real name Rory Graham, from Uckfield, began his musical journey as a rapper before finding success with his unique blend of blues, electro-soul and hip-hop.
Having topped the charts across Europe last year with hit single Human, his album of the same name was released last week, coinciding with a flurry of media interest, including an appearance on the Graham Norton Show.
Mr Thomas said: "With someone as talented as Rory, I always knew it's something that had legs but I don't think anything could have prepared me for the way it's exploded recently.
"Although the scenery has changed I'm still basically just playing the drums. You can't let it get on top of you too much and everyone in the band is really grounded."
Lucy Morgan-Jones, head of East Sussex Music, said: "We're really sad to lose Ben from our teaching staff but we and all the students are really excited and thrilled that he's able to take up this fantastic opportunity.
"Hopefully he will act as an inspiration to the students, as someone who started off having music lessons with us, became a music teacher himself and is now enjoying such success."
More information about East Sussex Music is available at www.eastsussex.gov.uk/music