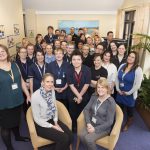 A CARE home in East Sussex has been praised by a health and social care watchdog for the 'outstanding' service it provides.
Milton Grange, in Eastbourne, received the highest possible rating overall following a surprise inspection by the Care Quality Commission.
The East Sussex County Council-run home provides intermediate care, helping older people to stay out of hospital or make the transition from hospital back to their home.
Inspectors said service users received excellent, personalised care and were encouraged to take an active role in planning their rehabilitation and return home.
Staff knew their clients 'exceptionally well', having 'a strong understanding of them as individuals and their needs' while the home offered an 'open, transparent and inclusive atmosphere' in which people felt safe.
Cllr Bill Bentley, county council lead member for adult social care, said: "It's great to see praise from the inspectors for the fantastic job staff at Milton Grange do and the exceptional care they provide.
"A positive report like this doesn't happen by accident and is the result of the consistent hard work and dedication shown by the entire staff working in all the various roles at the home, who do such a professional job day-in, day-out.
"The home provides a bright, modern setting and creates an environment in which people feel safe and are able to play a really active role in their recovery.
"The outstanding rating is thoroughly justified and recognises the vital role the centre plays in helping people return to full health, stay out of hospital or make the transition back to their own homes."
The home, in Milton Road, caters for a wide range of needs, including people with dementia and mental health issues, those who need nursing care and people recovering from illness or injury.
Inspectors, who visited in the autumn, gave it an 'outstanding' rating overall and awarded the same rating for being caring and well-led. It received a 'good' rating for being safe, effective and responsive to people's needs.
The report can be viewed in full online at www.cqc.org.uk/location/1-142043856