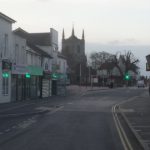 A NEW-look Hailsham High Street has reopened to motorists after the first part of a £2.5million improvement scheme was completed.
The road has been closed to vehicles since July while changes and improvements were made to the road, pavements and drainage, although pedestrian access was maintained throughout the work.
The High Street section of the scheme, which will enable the town centre to cope with additional traffic from housing development and continue to flourish, was delayed after corroded and broken utility pipes were discovered dangerously close to the road surface.
With these service pipes having now been replaced by utility companies, and a new road surface laid, the road reopened on Saturday, March 11.
Work now moves to George Street where footpaths will be widened and resurfaced, the road width reduced to allow for parking and loading bays, new street lighting and a new zebra crossing will be installed.
Contractors CH2M/Costain originally planned to work on George Street and Vicarage Lane and Vicarage Road simultaneously, but following concerns raised about the disruption caused by the High Street section of the scheme, these will now be done separately.
Derek Carter, project manager from CH2M, said: "A scheme of this size will inevitably cause disruption and, while the end result is a town that can thrive for years to come, we recognise that this can create an issue for businesses.  We appreciate the patience of the business community and the wider community in Hailsham.
"While the changes to the work programme will mean the scheme will be completed slightly later than anticipated, we feel it is important to listen and act on the concerns raised.
Mr Carter added: "George Street will be closed to vehicles from Monday, March 20 for eight weeks.  We will continue to liaise with the community to answer any questions and address any issues should they arise."
Once George Street is complete, work will begin in Vicarage Lane and Vicarage Road including widening of the footpath outside the leisure centre, a new footpath and pedestrian controlled crossing at the southern junction with Market Street and a permanent southbound one way system.  This work is expected to last for eight weeks.
Cllr Bill Bentley, chairman of the scheme's steering group, said: "While I appreciate the disruption that the scheme has caused, we now have a fantastic looking High Street which will be able to cope with the additional traffic generated by the new housing being built in Hailsham.
"The improvements to the town centre are much-needed and something that the community has been calling for some years.  The new road layouts will make it easier to navigate the town centre, while the new-look will make Hailsham a destination for shoppers from further afield."
Updated information will be available online throughout the scheme at www.eastsussexhighways.com/events/hailsham-town-centre-regeneration-works
The scheme is funded by contributions to infrastructure made by developers building housing developments in the area, and £1.3million from East Sussex County Council.  It is being delivered in partnership with Wealden District Council, Hailsham Town Council and Hellingly Parish Council.
While the scheme will include a reduction in on-street parking spaces, Hailsham will retain its free off-road parking – more than 650 spaces.