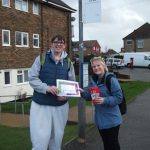 AN INITIATIVE helping young people with disabilities travel independently to school, college or training has won national recognition.
The Learning Independence for Travel (LIFT) training programme was one of just seven schemes shortlisted for a 'best service' award at the GO Excellence in Public Service Awards 2017/18.
The training programme has been developed by National Star College, an independent specialist college working with young people who have physical, sensory or learning disabilities.
The programme has been commissioned by East Sussex County Council to help young people across the county become more independent. It also helps minimise the reliance on taxi services taking young people door to door.
Louise Carter, assistant director for children's services at the county council, said: "It's great to see such a beneficial scheme getting the national recognition it deserves.
"Many young people are denied access or have limited access to education, training, employment, services and social activities because they are unable to use public transport independently and safely. This programme enables those people to build their knowledge, understanding and confidence."
Lift Training provides free travel training to young people with a physical disability and/or a learning difficulty, including personal and road safety, journey planning, travel preparation, emergency strategies, money and time management and how to use timetables.
As well as learning to use public transport independently, the LIFT scheme gives young people the chance to gain an accredited qualification and allows them to return to the programme for additional training.
Louise Carter added: "Since the county council first commissioned the LIFT training in 2014, the scheme has helped more than 50 young people from across East Sussex with the help and support of their families and education and training providers.
"As well as enabling young people with disabilities to travel safely to and from school, college or training, this scheme has a positive impact on their lives giving them confidence to be more independent, whether it be going to the local shops or meeting with friends."
To find out more about the LIFT training programme visit https://www.eastsussex.gov.uk/educationandlearning/schools/transport/itt/lift/