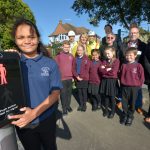 YOUNGSTERS in Hastings are enjoying a safer journey to school after the installation of a new pedestrian crossing.
East Sussex Highways has installed the puffin crossing in The Ridge, improved footpaths and created a new, safer access to Sandown Primary School.
The high-tech crossing avoids the 'stop-start' effect of the zebra crossing it replaced, and even has a sensor to detect when the button has been pressed but there's no-one waiting – to avoid unnecessarily disrupting traffic flow.
The £150,000 scheme was completed following calls from the local community for pedestrian safety improvements in the area.
Cllr Nick Bennett, East Sussex County Council lead member for transport and environment, said; "The new crossing is already making a difference in improving safety for schoolchildren, parents and other pedestrians and keeping traffic moving along this very busy road.
"While we do only have limited resources, we always do our best to deliver transport improvement schemes where there is a clear local need, and we'd like to thank the school and the local community with whom we've worked very closely."
Charles Lindsay, head teacher at Sandown Primary School, said: "We used to regularly see near misses on this road but the new crossing has had a huge impact on children's safety and improved the look of the area outside the school.
"The way the school, the local community, the council and the contractors have worked together to make this happen has been fantastic – it symbolises everything we're about as a school and how we want to work in the future."