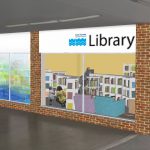 RESIDENTS won't have far to go to access library services when Peacehaven Library relocates to a different unit within the Meridian Shopping Centre in September 2018.
The move is part of the authority's Libraries Transformation Programme, which aims to deliver a more efficient service while meeting the changing needs of residents and safeguarding provision.
Cllr Bill Bentley, lead member for communities and safety, said: "This move will enable us to relocate library services to a smaller, more suitable unit in a busier part of the shopping centre, and help us save a significant amount of money without impacting on the level of service we provide.
"Customers will continue to benefit from all the services we provide in the current library, including computers and Wi-Fi for free internet access, a great selection of stock, and a children's area. The library's opening hours will stay the same and, because the service will remain in the shopping centre, library users will continue to enjoy free parking."
The current unit which houses Peacehaven Library is far too large for the library service's needs, which has seen a sharp decline in usage of the current library in recent years. Efforts to find other services, groups and organisations to share the space and cost have been unsuccessful.
The current library is the most expensive library in East Sussex to run per open hour. In addition to saving money in rent, the new premises will dramatically reduce the cost of rates, services and utilities such as electricity and gas.
"As well as working hard to ensure services are efficient and sustainable and meet the changing needs of residents, we have to find significant savings within the library service," Cllr Bentley added.
Work to refurbish the new library space will be completed while services run from the existing library. It is anticipated that Peacehaven Library will need to close for a short period in the autumn for fixtures and fittings to be moved, but customers will be notified in advance.