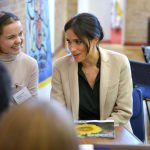 YOUNG people in East Sussex are being urged to spread the word about positive mental health – buoyed by a royal visit highlighting the issue.
To mark this year's World Mental Health Day tomorrow (Wednesday, October 10), the East Sussex Youth Cabinet and the Download mental health participation group are promoting their Top Ten Tips guide for schools.
The guide, with its distinctive yellow sunflower cover image, was a focal point for the visit of The Duke and Duchess of Sussex to Peacehaven last week, hosted by East Sussex County Council children's services.
Schools and colleges around East Sussex are being urged to promote the guide on Wednesday and to hold activities such as discussion groups and video screenings to raise awareness of mental health and emotional wellbeing.
The royal couple were welcomed to the Joff Youth Centre, in Peacehaven, by East Sussex Youth Cabinet members Indya Wardle, 15, from Eastbourne, and Libby Russell, 16, from Hailsham.
Libby said: "World Mental Health Day is a great opportunity to highlight the importance of positive mental health, encourage schools to support it and get young people talking."
Indya added: "The Top Ten Tips guide has had a really positive reaction in schools and it was great that the royal couple loved it and that the Duchess even asked for a copy to take away with her."
The guide, put together with Boingboing, a social enterprise which works with disadvantaged young people, advises schools to talk about mental health and ensure young people know where to go for support.
It advises against unhelpful comments such as urging someone to 'try and be happy', not to let negative comments about mental health go unchallenged and to bear in mind poor pupil behaviour could be a sign of mental health issues.
Cllr Bob Standley, East Sussex County Council lead member for education and inclusion, special educational needs and disability, said: "Around half of mental health issues experienced by adults begin by the age of 14, so schools and colleges have a crucial role to play.
"The Top Ten Tips guide is aimed at helping schools to manage students' mental health on a daily basis and build resilience, and it's great to know that it was so well received by The Duke and Duchess."