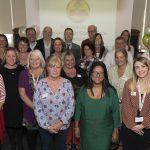 NEW recruits have been welcomed to a scheme which provides peace of mind for residents needing care and support in their own homes.
Support With Confidence checks personal assistants and care and support providers, approving them for quality, safety and training to ensure they provide a professional and trustworthy service.
Having recently welcomed 32 new recruits, the East Sussex County Council-run scheme now has 195 accredited members across the county.
Cllr Carl Maynard, the council's lead member for adult social care, said: "I'm delighted to see so many new care providers signing up to the Support with Confidence scheme and giving our residents peace of mind.
"Putting your trust in someone to come into your home and provide care and support can be extremely daunting, but this scheme gives residents reassurance that they will receive a high level of care from people who are professional and properly trained."
Members of the scheme provide a wide variety of services that support residents to live independently in their own homes. They range from those offering personal care, meals and transport, to mobility providers and financial experts
Cllr Maynard added: "There is an array of services that qualify for the Support With Confidence scheme and, while it currently offers a wide choice of providers, I would encourage more people to consider joining the scheme.
"The more people we can recruit, the more confidence we can give those in need of additional help to stay in their own homes and live independently."
As well as the benefits for those needing care and support, there are many advantages for providers signing up to the Support With Confidence scheme, with members receiving free training, free DBS checks and support and guidance from the county council.
Anyone interested in becoming an accredited member is asked to call 01323 463440 or email supportwithconfidence@eastsussex.gov.uk
For more information about the Support With Confidence scheme, and to find an accredited provider, visit www.eastsussex.gov.uk/supportwithconfidence
Ends