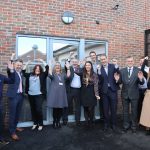 A SUPPORTED living service which helps people with learning disabilities or autism live independently in the community has opened after a major refurbishment.
Greenacres, in Mill Lane, South Chailey, now provides six self-contained one-bedroom flats with gardens for long-term tenants and two units for short stays.
The East Sussex County Council-owned building originally opened in the 1980s, when it was designed to allow residents with learning disabilities live in a group setting.
The refurbishment comes as part of a national shift towards enabling people to live independently in the community through supported living – with round-the-clock on-site support available.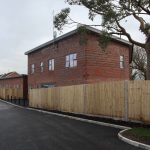 Cllr Carl Maynard, county council lead member for adult social care, said: "The refurbishment has created a fresh, modern facility which meets the needs of service users and helps them to live independently while enjoying the peace of mind of having 24/7 support available."
The scheme has been delivered with partners including NHS Clinical Commissioning Groups (CCGs), housing provider Inclusion Housing and social care charity Community Integrated Care (CIC), which will provide the care and support element of the scheme.
Martin McGuigan, Managing Director at Community Integrated Care said, "Our charity was founded in 1988 as one of the pioneers of the 'Care in the Community' agenda, with the continued aim of supporting people to leaving long-stay institutionalised settings to lead fuller, better lives in the community – and over 30 years on, we're honoured to continue doing that here at Greenacres.
"As a care provider, we exist to deliver world class support so that people with care needs can live the best lives possible. The people supported at this service will be moving back into their local area to be near to their family and friends nearby for the first time in decades – we're so honoured to be enabling people to come home and be part of their local community again."
Neil Brown, CEO of Inclusion Housing, said: "Delivering supported housing for the most vulnerable in society to achieve a better quality of life and live independently is what Inclusion does best.  Through true partnership we are delighted to play our part in providing much needed supported housing in South Chailey."
The revamped facility is part of East Sussex's response to the national Transforming Care Programme, aimed at ensuring people with learning disabilities or autism can be discharged from NHS hospitals into appropriate community settings.
The redevelopment of the existing Greenacres site was largely funded by NHS England with a contribution from East Sussex County Council.