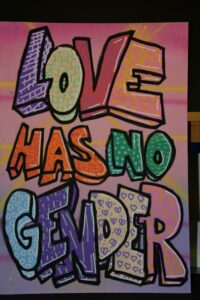 A VIRTUAL exhibition exploring the experiences of young LGBTQ+ people in East Sussex has been launched during LGBT History Month.
Originally intended to form a travelling schools exhibition which was halted due to the coronavirus pandemic, artwork from the 'LGBTQ+=Me: A skip, a hop and a jump' project is now available to view online.
To mark LGBT History Month and ensure the artwork which includes posters, short films and oral history interviews can continue to be viewed despite the pandemic, East Sussex County Council has worked with TechResort to digitise the project and create a virtual exhibition.
LGBTQ+=Me, funded by a £48,500 grant from the National Lottery Heritage Fund, began in 2019 and was developed to highlight the little-known history of East Sussex's LGBT communities.
Young people from across the county searched through archives, visited cultural sites and museums and recorded interviews with older members of the LGBTQ+ community to learn about the life and times of local LGBTQ+ people from past generations and to reflect on their own experiences.
Cllr Sylvia Tidy, lead member for children and families, said: "It can be a challenge to find your history and your story in museums, especially if you identify as LGBTQ+.
"The wonderful artwork our young people created through this project was exhibited for a weekend at Charleston in February 2020, before being displayed at Hastings Museum & Art Gallery. Sadly the exhibition was only open for a short time before the museum closed due to the pandemic.
"I am delighted that, despite the challenges of the last year, we have found a way to ensure this inspiring and thought-provoking exhibition continues to be available to all."
As well as launching the new virtual exhibition, the oral history interviews have been deposited at The Keep archive centre ensuring the voices and experiences of the older LGBTQ+ community are preserved for generations to come.
Steve Lochan-Grimer, Assistant Principal and designated Safeguarding Lead and Mental Health lead at Claverham Community College, said "The oral histories were so sensitively carried out. The young people showed a real interest and empathy for the interviewees. They asked really great questions to explore the lives and allowed the older people to answer honestly and frankly. The young interviewers did a fantastic job. There was a real connection which bought a warmth to the listener".
To accompany the exhibition the council has also launched a Year 9 poetry resource for East Sussex schools linked to the work of Charleston's Bloomsbury set.
The LGBTQ+=Me virtual exhibition can be viewed at https://lgbtqme.alfheim.uk/
Schools wanting more information on the Year 9 poetry resource should contact equalityandparticipation@eastsussex.gov.uk.