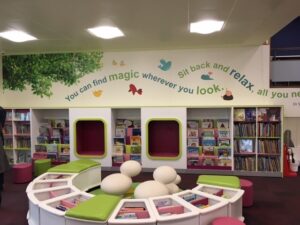 OPENING hours at libraries across the county returned to normal this month.
From Tuesday, June 1 pre-lockdown opening hours resumed at all East Sussex libraries giving residents more opportunity to browse, read and borrow books, use the computers or free wifi, and access study spaces.
In more good news for customers, face to face activities and events have also restarted. The adult literacy program, Step into Reading, is taking place at Hastings library and the Summer Reading Challenge, which encourages primary school children to read over the summer holidays and collect prizes as they enjoy six books, will be running at all East Sussex libraries throughout August.
And for residents who would like some help developing or refreshing their computer skills, IT for You sessions are once again available. Sessions are currently running at Eastbourne and Hastings libraries, expanding to Crowborough and Hampden Park libraries later this month.
Further events and activities will be taking place over the coming months with full details available from library staff or online.
In addition, more library services have resumed including interlibrary loans and DVD and play set hire, as well as the Reading Group service.
Cllr Claire Dowling, lead member for transport and environment at East Sussex County Council, said: "Following the successful reopening of our libraries in April, we are delighted to be able to increase our opening hours, restart our popular events programme and expand the services available to visitors.
"We have worked hard to ensure all our libraries are Covid-secure, and residents are welcome to come and enjoy their local library for as long as they wish, browsing the shelves and using the computers and study spaces.
"Although our libraries are welcoming back visitors, our wide range of digital services is also available as well as the 'Select and Collect' and book reservations service."
To encourage residents to return overdue library items, libraries across the county are holding a time-limited amnesty. Overdue fines for library items are currently suspended and people are being asked to use this time to return any late books or DVDs so that other people have a chance to enjoy them.
Cllr Dowling added: "Now that our library buildings are open, we are asking residents to hunt down any overdue books and other library items and return them to us without worrying about fines."
All East Sussex libraries have measures in place to ensure everyone can use their local library safely including new layouts to encourage social distancing, limited visitor numbers, and increased cleaning.
Visitors to council libraries are reminded to observe social distancing guidelines, wear a face covering unless exempt, and to sanitise their hands when entering and leaving the building.
For library locations and opening hours, and for more information on library services including events, please visit the Library pages on the East Sussex County Council website or call 0345 60 80 196.