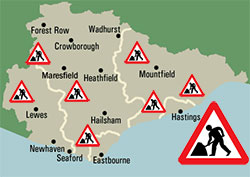 A SCHEME could be implemented to reduce the length of time roadworks take on the busiest roads in the county.
At its meeting on Thursday, September 30, Cabinet approved plans to develop an East Sussex Lane Rental scheme, subject to approval from the Secretary of State for Transport.
Under the Department of Transport backed initiative, companies will be charged up to £2,500 per day for carrying out roadworks.