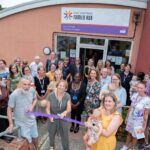 FAMILIES across East Sussex will be able to access a range of support services under one roof as 11 Family Hubs open their doors this summer.
Professionals including midwives, health visitors, Early Communications Support Workers, Early Years Practitioners, Community Engagement Coordinators and Early Help Key will offer support from the new Family Hubs, while sessions will give children and parents the chance to socialise and support their children's needs and development.
East Sussex was one of 75 areas across England and Wales to receive a share of £301.75 million from the Government's Family Hubs and Start for Life Programme.  As well as transforming 11 sites, more support will be offered online.
There will be particular emphasis on providing Start for Life services specifically aimed at age 0 to two such as peer support, antenatal and postnatal education courses, baby/toddler sessions and perinatal mental health support.
Alison Jeffery, East Sussex County Council's director of Children's Services said: "We were delighted to welcome families to our Hastings Family Hub for its official opening this week. Family Hubs will make it even easier for families to access the help and support they need to make a positive difference in their lives.
"The new facilities offer parents and carers of children from 0 to 19 support to improve health and education outcomes by joining up and enhancing the services offered to families in East Sussex."
Father-of-two James is already reaping the benefits of the Family Hub having found out about the support they offer from a health visitor.
Born during the Covid pandemic, his children missed out on important opportunities to socialise with others.  Joining in groups and sessions at the Family Hub has given his family the chance to meet others.
James said: "We live in a one-bedroom flat and don't have a garden or a safe space to play in.  The Family Hub has really helped the kids, especially with social skills, and helped me to get out of the house.
"The Family Hub is very relaxed and very friendly.  If you have any problems, you can speak to someone. They have given us a lot of guidance. It's been a big help."
For Helen the Family Hub gave her and her two children a chance to get out more and socialise with other families.  She was so impressed with the services offered that she now volunteers and runs a messy play session.
Asked what her advice would be to other families considering attending a Family Hub, Helen said: "Don't be worried.  Everyone is really friendly and really kind and it is always really good fun."
East Sussex is one of 15 authorities to be awarded trailblazer statusspecifically focussing on parent/infant relationships and perinatal mental health, and will become national leaders for the Family Hubs and Start for Life programme. Trailblazers will make the quickest improvement to services and sharing best practice with all local authorities.
For more information about Family Hubs visit www.eastsussex.gov.uk/children-families/childcare/familyhubs
Ends.