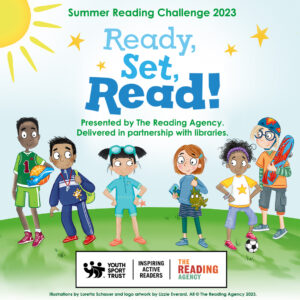 YOUNG readers across the county are being encouraged get ready, set and read this summer as the annual reading challenge gets underway.
East Sussex libraries are calling on children aged four to 12 to read six books over the summer months as part of The Reading Agency's Ready, Set, Read! Summer Reading Challenge 2023.
Created in partnership with Youth Sports Trust and illustrated by the children's writer and illustrator Loretta Schauer, this year's sport and play themed challenge aims to keep children's minds and bodies active over the summer break.
For each library book read, youngsters will receive a sticker and other prizes. After reading six books they will earn a certificate and a medal.
This year, thanks to a partnership with Nike, Rebel Girls and The Reading Agency, children taking part in the challenge will also receive a free copy of the limited-edition book 'Rebel Girls Kick It: World Champions Take the Pitch, and You Can Too!'. The book is most suited to those aged 7-12 years but will be given to all children who complete the challenge at East Sussex libraries.
Children are encouraged to join six teammates, Naveen, Naomi, Noah, Sophia, Ollie and Alesha and their animal mascots, to read, have fun and keep active during the summer holidays.
The characters have been brought to life through a series of downloadable activity challenge cards created by Youth Sport Trust which include warm-ups, skills challenges, and games to get children moving and thinking.
Nick Skelton, Assistant Director for Communities at East Sussex County Council, said: "Keeping children reading over the long summer break is very important, and this annual challenge is a fantastic way for them to discover the joy of reading for pleasure.
"The beauty of the Summer Reading Challenge is you can read anything you like to complete the challenge – facts, comics, fiction, poetry and much more – and remember listening to audiobooks counts too.
"I encourage all our local children to sign up and get ready, set, read throughout the summer."
To inspire young readers, free sports and play themed workshops and events will also be taking place at East Sussex libraries this summer.
Storyteller John Kirk will be hosting live storytelling experiences like no other as scavenger hunting collides with folk tales in 30 minutes of fun about the most unlikely sporting hero – the ant.
In August children can meet Priscilla Mante, author of The Dream Team series including Jaz Santos Vs The World, which was shortlisted for the Children's Sports Book of the Year 2022.
Youngsters can join poet, performer and musician Ed Boxall for a fabulous mix of stories, poems and songs based on his new book 'We The Wild Ones' and his popular title 'Carried Away with the Carnival'.
Children will also be able to learn circus skills and take part in high energy street dance workshops, as well as have a go at tri golf, archery and fencing in sessions at local libraries run by Sports Cool.
The Summer Reading Challenge starts on Saturday, July 8 and runs until September 9 in all East Sussex libraries. For more information on the challenge, to sign up, and to book events visit www.eastsussex.gov.uk/src.