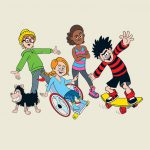 YOUNG readers can join a team of Mischief Makers for a tour around Beanotown as this year's Summer Reading Challenge gets underway.
East Sussex libraries are calling on children aged four to 11 to sign up to read six books over the summer. Those taking part will earn stickers – some emitting a mysterious smell – which will lead them to buried treasure.
This year's challenge is inspired by the much-loved children's title Beano, which celebrates its 80th anniversary, and features Dennis and Gnasher.
Cllr Bill Bentley, the East Sussex County Council's lead member for communities and safety, said: "Each year the Summer Reading Challenge captures the imagination of children across the county, encouraging them to visit their local library and keep reading during their summer break.
"I would encourage as many children as possible to sign up for a chance to earn prizes and keep their literacy skills sharp for their return to school in September."
Children signing up for the challenge will be given a colourful collector's map of Beanotown to keep a record of their Summer Reading Challenge journey. They will need to read a total of six books by Saturday, September 8, to complete the challenge, and this can include ebooks, audio books, picture books and puzzle books.
To take part in Mischief Makers, children need to sign up at www.eastsussex.gov.uk/src then visit their local library with the secret code word they receive when they join.
To help schools promote the challenge, library staff have produced a short film featuring librarian Henry Young, supported by Pearl, Erin, Betsy and Brodie. It tells the story of a man washed ashore in Hastings having not read for weeks, who gets his life back together with the help of the Summer Reading Challenge.  It can be viewed at https://youtu.be/33gKg8d3Rhs
To inspire young readers, comic book artist and writer Karen Rubins will be visiting East Sussex libraries during the challenge to help children create their own Mischief Makers comic book hero and write their own comic strip.
Places must be booked at the following events;
Hastings Library – Saturday, July 28, between 10.30am and 12
Eastbourne Library – Saturday, July 28, between 2.30pm and 4pm
Newhaven Library – Saturday, August 18, between 10.30am and 12
Uckfield Library – Saturday, August 18, between 2.30pm and 4pm
Spaces for the Summer Reading Challenge events can be booked now on the following Eventbrite pages;
Hastings: https://srccomicbookworkshophas.eventbrite.co.uk
Eastbourne: https://srccomicbookworkshopeas.eventbrite.co.uk
Newhaven: https://srccomicbookworkshopnew.eventbrite.co.uk
Uckfield: https://srccomicbookworkshopuck.eventbrite.co.uk
Ends.